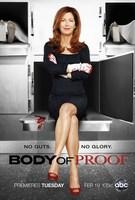 TV Info
---
Episode Premiere
September 20, 2011

Distributor
ABC

Genre
Drama

Show Period
2011 - 2013

Production Company
ABC Studios


Cast and Crew
---
Director
Christine Moore
Screenwriter
Corey Miller
Main Cast
Additional Cast
Jeffrey Nordlin
Derek Phillips
Danielle Bisutti
Synopsis
---
A car careens out of control over an embankment before.. CRASH! Dr. Megan Hunt believes the deceased driver, Daniel Davidson, was unconscious at the time of impact. Somebody strapped the guy into the vehicle and sent him over the edge. In other words, this was no accident.
A splinter bearing white paint is found in a gash in the victim's arm and there are faint ligature marks on both wrists. Red cloth fibers are found in the nostril. After speaking with the victim's wife, Andrea, Megan soaks in all the neighborhood faces. She says, "I used to live on a cul-de-sac like this. Nothing is ever what it seems." Anyone else get this not-so-subtle reference to Dana Delany's time on Wisteria Lane? Love it!
There's a busted fence separating the victim's house from his neighbor, Ted Banning (guest star Rick Fox). The blood on the post is the result of fight that occurred after Banning accused Daniel of poisoning his dog. Sam and Bud learn that Daniel had an unsent text message on his phone that read "I have to say something." He was planning to send it to another neighbor, Vicki Hemington.
A search of the Hemington home uncovers a cabinet filled with kinky sex toys. The key used to unlock the secret stash was lodged in the driver's seat of the murder victim's car. Vicki was having an affair with Daniel. Well, you can't technically call it an affair since her husband, Bill, is the one who set the whole thing up. Such a nice, supportive spouse.
Vicki says the entire block is filled with swingers, or "play couples." She also claims that Daniel believed the lifestyle had consequences. He could have been right, as Megan believes that Daniel's weakened immune system suggests that he may have been infected with HIV. But Ethan says that's not the case. He also learns the fibers found in the nose were doused with brake cleaner.
Megan remembers another neighbor, Kevin Kaiser, had been cleaning his motorcycle. This is a man who had his wife leave him as a result of the whole "play couples" extravaganza. That's because Kaiser started having feelings for Daniel Davidson's wife, Andrea. Sounds like a pretty good motive for murder. Of course, there's also the possibility that Kaiser and Andrea are in cahoots.
Andrea Davidson took out a $15,000 cash advance on her credit card a few days ago. She could have used the loot to hire a hitman to off her hubby. But Andrea swears that she does not have feelings for Kaiser and truly loved her husband. The money was going to be used for a timeshare in Bermuda to save their marriage.
Megan interrupts Vicki Hemmington's timeshare presentation to say that the tropical island she's pitching is actually a landfill. Peter notices that Megan is misting up a bit after the presentation breaks up. The tears in question may actually be evidence in the case. Megan believes the victim was subject to a toxin-induced condition. She says, "That whole neighborhood is being exposed to poison. And it could be killing all of them." Bud and Sam swarm to a backyard shed where Kevin Kaiser is busy working in his homemade meth lab. That's what the neighbors have been inhaling all these months. It's what killed one family's dog. Daniel found out about the operation which pushed his desperate neighbor to commit murder. Case closed.
Peter makes a date with one of the many lovely ladies he's been flirting with in suburbia. Ethan wonders if there are any houses for rent over in the cul-de-sac. Megan assures him that he couldn't handle a desperate housewife. Unfortunately, Megan still can't handle the fact that her boss Kate is still dating her ex-hubby.
Things get tense when Kate is the only one who can pick up an ailing Lacey from school. Megan couldn't be reached, as her cell phone went south. Lacey assures her mom that she knows she would've been there for her. She also admits that she faked being sick to get out of a science test. She's really into art and was afraid that might disappoint her mom. Megan assures Lacey that's just not possible.