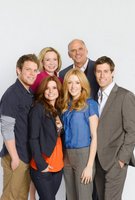 TV Info
---
Episode Premiere
February 09, 2011

Distributor
ABC

Genre
Comedy

Show Period
2010 - 2011

Production Company
Warner Bros. Television


Cast and Crew
---
Director
Gary Halvorson
Screenwriter
Greg Malins, Shana Goldberg-Meehan
Main Cast
Additional Cast
Synopsis
---
All of Mia's temps are quitting. That's bad news when you run an E-card website on Valentine's Day. She needs people to answer the phones for customer service. Maddie and Vicky know where this is going. They've been bailing Mia out of sticky situations since she was a kid. For instance, there was that time when they helped her with a school report on Peru. Maddie's still plenty peeved that they only got a C.
Mia sets up Maddie and her mom in workstations at her office. There's a script for when customers call and a flowchart that should solve all problems. A young tech whiz named Hunter is aptly dealing with any increased online traffic issues plaguing the servers. This makeshift team is ready for action -- except for Maddie who needs a wrist support for her computer keyboard and Vicky who needs a new headset and one of those "funny sayings" mugs for her coffee. She used to have one that said "No Coffee, No Workee!" Classic.
Mia's off to satisfy the requests of her new temps. While she's out, Vicky gets into a little spat with Hunter. She wants the kid to fetch her some coffee. That's not something in the chief technical officer's job description. The two get into a little verbal showdown in which Hunter refers to Vicky as Mia's grandmother. So, she fires him.
Mia freaks when she realizes Hunter is gone. Things go from bad to worse when the servers crash. Maddie assures her sis that all is well. She called her assistant, Glen, who she thinks is a genius when it comes to computers. He's not. He's just hopelessly in love with Maddie. That's why he shows up with a bouquet of flowers and horse-drawn carriage. That Glen. He's such a character.
Casey loves Valentine's Day. He can't wait to go all out to do something huge for the woman he loves. Joel and Ben can't wait to stop him. There's no way they want to set a precedent of extravagance. Joel says, "Once you go big, you cannot go back." One store-bought card and a single rose will do. Yeah, Casey's not having any of that.
Surprisingly, Ben's on Casey's side. He loves doing special things for Maddie. Fear caused him to be sucked into Joel's minimalist mentality. Well, those days are over. The boys engage in an afternoon of Valentine's craft-making. Casey creates a heart-shaped card featuring a pop-up picture of him inside. It's most impressive, though not to Joel.
With Casey and Ben in cahoots, Joel decides to blow the guys out of the water Valentine's Day-wise. He has his work cut out for him. After all, Ben and Casey created some shockingly delightful crafts. Nevertheless, Joel has gobs of platinum card points to get the job done. The battle to see who can create the most romantic scene for their special lady is on.
Ben hires a high-end chef to cook up a delectable five-course meal. Casey hires a masseuse for a romantic couples massage. Joel trumps them both when he announces that all those platinum points got him an evening with world-renowned pianist Michael Feinstein. He'll be performing a song Joel wrote for Vicky. But all plans get put on hold when the guys get word that their ladies are stuck dealing with the crisis at Mia's office. Looks like Valentine's Day is off. Or is it? More on that in a bit.
Back at the office, Mia manages to fix all of the computer glitches and she talks Hunter into coming back. Just keep the whiz kid away from grandma. Maddie and Vicky are shocked to see how well Mia managed this crisis. She could always do the work; she would just prefer that others do it for her. That's why she manipulated Maddie and her mom into doing that Peru report way back when. Savvy.
The guys opt to go through with all V-Day plans without the women. It's an evening of fine food, relaxing massages and, of course, Michael Feinstein belting out Joel's hit Vicky tune. When the ladies finally arrive home, they are blown away by the extravagance of the scene. It's the best Valentine's Day ever! But, as Michael Feinstein points out, it'll be tough to top next year. Maybe the guys can borrow Glen's horse-drawn carriage.