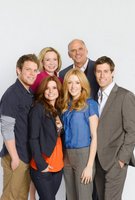 TV Info
---
Episode Premiere
January 19, 2011

Distributor
ABC

Genre
Comedy

Show Period
2010 - 2011

Production Company
Warner Bros. Television


Cast and Crew
---
Director
Shelley Jensen
Screenwriter
Christopher Luccy
Main Cast
Additional Cast
Synopsis
---
After a trip to the pediatrician, Mia and Casey realize they need to address a few outstanding issues before the baby arrives. Tops on the list is finding someone to adopt the stray cat they've recently taken in. Casey says, "We named him Mr. Meow-gi because of The Karate Kid. And because his English isn't great."
Vicky believes she and Joel won't be named their grandchild's emergency guardians unless they offer to take in the karate cat. Maddie feels the honor of guardianship rests on the fact that she and Ben take an infant CPR course. That may not be easy. Ben and Maddie don't do well when they take classes together. There was a near breakup/drowning during scuba certification. You simply don't take someone else's air without asking first.
Joel and Vicky swing by the firehouse to grab the cat. Mia thinks the reason her folks are so eager to take Mr. Meow-gi off their hands is because they don't believe she can raise a baby, let alone a cat. She also thinks Maddie and Ben doubt her future parenting prowess. Why else would they be taking a CPR class?
Speaking of the CPR class, it does not go well. Ben pummels the testing doll with his aggressive, roundhouse compressions. Maddie gets on the instructor's bad side thanks to her many interruptions and the fact that she ate the guy's donut. That's probably why the CPR teacher kicks Mia out of the next class after he learns she's related to Maddie.
The battle for guardianship rages on. Vicky and Joel engage in a little trash-talking when they pop by Ben and Maddie's place. The truth is that no one is confident they'll get the guardian title. But Ben believes he and Maddie have the upper hand when Joel and Vicky accidently leave without taking Mr. Meow-gi with them. This leads to another round of trash-talk where the participants rattle off all the horrible things their opponents did when Mia was a baby. Here are a few highlights:
Vicky: When you were a baby, Maddie pressed your soft spot until you cried. She called it your crying button.

Maddie: Mom and Dad were so cheap, they would wait for your friends to have birthday parties and then just tell you it was yours.

Joel: Maddie used to write things backwards and tell you you were dyslexic.

Maddie: Dad once forgot your car seat and just strapped you into a laundry basket.

Vicky: When Maddie was six, she was babysitting you and she gave you a bath in chocolate milk!

Maddie: Mom and Dad let me babysit you WHEN I WAS SIX!
The verbal smackdown is put on hold when Mr. Meow-gi starts choking on a packing peanut. Fortunately, Ben and Maddie have half a CPR class under their belts. It's go time! They spring into action, effectively dislodge the mucus-covered Styrofoam obstruction and save Mr. Meow-gi's life. It's more exciting than winning the All-Valley Under-18 Karate Tournament.
Mia realizes that she turned out fine even though many mistakes were made during her childhood, so her baby should be fine, too. As far as the guardianship issue, Mia says they could never choose just one couple to take the gig. That's why they all should do it. In reality, they decided that Casey's pediatrician's half-brother should be guardian. No need to mention it to the family though. Sure, they'll be upset when the truth comes out. But Mia and Casey will be dead by then. So, who cares?