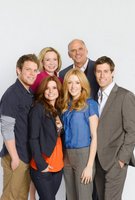 TV Info
---
Episode Premiere
January 05, 2011

Distributor
ABC

Genre
Comedy

Show Period
2010 - 2011

Production Company
Warner Bros. Television


Cast and Crew
---
Director
Rob Schiller
Screenwriter
Kat Likkel, John Hoberg
Main Cast
Additional Cast
Hannah Smith
Loanne Bishop
Lamont Thompson
Joe Dietl
Synopsis
---
Mia has a mini-meltdown when Ben accidentally wears her all-time favorite jeans. She affectionately refers to them as her "angel butts." That's because they make her derriere look like it's being held up by little angels. Unfortunately, her "angel butts" no longer have the same heavenly appeal. Ben's stretching and funky guy parts caused them to rip. Oops.
Mia insists that Ben buy her some brand-spankin'-new skinny jeans. She tries on many different pairs, but none of them fit. Ben suggests she check out some pregnancy pants instead. That idea doesn't fly. Mia's not ready to admit that she can no longer wear those same skinny jeans of the past. Things are changing so fast. She's getting married. She has a baby on the way. The skinny jeans represent the person she used to be.
Ben helps Mia realize that she's still the same person no matter what she wears. This logic seems to sink in. Mia's even ready to try on some of those "other" pants. The stretchy jeans prove to be quite comfortable. Ben thinks so, too. In fact, he may have just found next year's Thanksgiving pants.
Vicky takes part in a little game where the ladies at her club assign point values to the successes and failures of their husbands. It's all part of their "fantasy husband draft" competition. You get positive points if the husband's retirement fund grows. Negative points are issued for things like a spot showing up on an x-ray. Sounds like a fun game. And the ladies even have a website!
Joel is bummed when he discovers his player status. He says, "I just went on that fantasy husband draft website the ladies put together. You know where they had me ranked? Last. I'd say dead last but there was a dead man ranked above me." On the bright side, it's possible they don't update the site all that often.
In order to increase his draft value, Joel does his best to impress the ladies with his fluency in foreign languages. That probably would've been more effective if he actually spoke a foreign language. A trip to the weight room doesn't pan out either. The fact that Joel gets trapped in the leg press machine will likely cause his stock to fall.
The truth is that Joel will never fare well in the fantasy husband draft. That's because Vicky constantly makes up stories to decrease his value. Contrary to what the other ladies believe, Joel's human pancreas was never replaced with the pancreas of a pig. Why would Vicky say such a thing? Well, it's because Joel is her fantasy guy. She doesn't want to share him, not even in a game. Aww.
Maddie makes it her mission in life to prove to Casey that the U.S. Post Office totally rocks. That's not going to be easy since he believes the mail totally sucks. Casey says, "I will give you that the mail had its day, but so did horseless carriages, wooden teeth and books."
Undaunted, Maddie tries to change Casey's "mail" chauvinist attitude through a series of teachable moments. First, she mails one of her shoes to Casey's place to prove that those trusty folks who are trained to drive with the steering wheel on the wrong side of the jeep to deliver much more than just letters. But Maddie's mailman draws the line at delivering a live fish. Perhaps she didn't have enough postage on the bowl.
Maddie feels defeated. Maybe the post office isn't as great as she once thought it to be. Then again, maybe it's so much better than she could have ever dreamed. Both Maddie and Casey are amazed when a mailman makes a special delivery. He carries an overexerted Joel through the front door and plops him onto the couch. Yes, the mailman just delivered Maddie's dad. Guess the U.S. Postal Service really does rock!