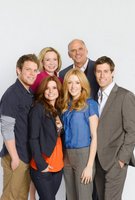 TV Info
---
Episode Premiere
November 17, 2010

Distributor
ABC

Genre
Comedy

Show Period
2010 - 2011

Production Company
Warner Bros. Television


Cast and Crew
---
Director
Shelley Jensen
Screenwriter
Greg Malins
Main Cast
Additional Cast
Synopsis
---
Mia and Casey regret their decision to have Vicky and Joel plan their wedding. The overly-enthusiastic parents provide over two dozen napkin choices and they haven't even gotten to the paisley ones yet. The kids decide to hire top professional wedding planner Lorraine Ashley (music superstar Reba) to take over the whole operation which means Vicky and Joel are fired.
Lorraine lives up to her hype. She locks down the best wedding location, string quartet, cake-maker and florist in the city. Mia and Casey are thrilled until Lorraine announces the wedding location has suddenly become unavailable, the string quartet has a conflict and someone else booked their cake-maker. Mia becomes furious when she realizes the person who stole her wedding goodies is none other than the newly-engaged Lorraine Ashley.
The only thing that hasn't been pilfered is the florist, so Mia beelines it down to the shop with a deposit check. There's only one person ahead of her when she arrives. Yep, it's Lorraine Ashley, who tries to make amends by suggesting Ben's hotel as a replacement venue. Mia's been against that place from the get-go. That expose 20/20 did about the vile organisms living atop the TV remotes only solidified her stance.
Mia is so upset that she tries to slap Lorraine, who neutralizes the open-handed assault with a nifty, ninja-like headlock. This isn't the first time the wily wedding planner has been attacked by a bridezilla. Casey suggests they plan the wedding themselves, but Mia isn't having any of it. She wants to hire another wedding planner. Someone better than Lorraine. Someone British. That'll show her!
Casey tries to reel Mia back to reality by leading her into a ball pit at a game-themed establishment. He wants them to get married right there, right now. Mia agrees that there's no good reason why they shouldn't declare their love for each other while knee-deep in colorful plastic balls -- except for the fact that she wants a really fancy wedding! There will be no ball-pit ceremony today. They'll have the wedding they truly want which will now be planned by every member of the family. Sounds reasonable.
Ben is shocked to catch Maddie sweet-talking her way to the front of the yogurt line. It's called flirting for favors. Everyone does it. Maddie says, "You smile, throw out a few compliments, show a little cleavage... You get special treatment; they get to see some top boob. Everybody wins!" The ploy even gets her secret yogurt toppings not available to the general public. This inspires her true love to unleash Flirting Ben to the world.
Flirting Ben has been riding the bench for many years, so he's a little rusty. Casey offers to help Ben find his flirting mojo. Things go a little too well. Not only does Ben score all those secret toppings, he also exchanges phone numbers with Amy, the focus of his flirts. Then they make a date. Then there are the plans to have Ben meet the family.
Ben tries to clean up the mess he's made, but Amy doesn't understand the whole flirting for favors concept. Maddie uses the unspoken agreement she has with Amy's coworker, Rory, as an example of what's happened here. Too bad Rory doesn't know anything about said agreement. He's totally in love with Maddie. Uh-oh. The totally dissed yogurt dude bans Maddie from the shop for life which will undoubtedly lead to a sudden surplus of secret toppings.