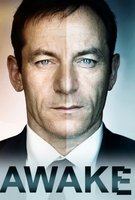 TV Info
---
Episode Premiere
April 12, 2012

Distributor
NBC

Genre
Drama

Show Period
2012 - 2012

Production Company
20th Century Fox Television


Cast and Crew
---
Director
Adam Davidson
Screenwriter
Howard Gordon, Evan Katz
Main Cast
Additional Cast
Synopsis
---
The Brittens are going forward with the move to Portland by putting their house on the market. As the "For Sale" sign is about to be placed in their front yard, Britten promises to speak to the captain about their plans today. On his way into work, Britten hears a foreboding message from the drive-thru speaker at Ricky's Tacos: "Don't go to Portland. If you do, it'll all fall apart. It all starts with the Westfield case." The employee at the pick-up window claims to have not said anything through the speaker, prompting Britten to wonder if he's hallucinating again.
His curiosity piqued, Britten returns to the now abandoned Westfield office building, which he investigated four months ago, just before the accident. It used to be a distribution center; but it closed down four months ago, and the previous tenants left no contact information. It all feels like just another dead end, another mysterious clue going nowhere, until Britten spots a Ricky's Tacos bag on the floor.
Dr. Evans is surprised how in the world where Hannah is still alive, his mind is now sending messages through the drive-thru speaker at Ricky's Tacos. Perhaps his subconscious is working against the move to Portland, bringing to his attention some unfinished business in Los Angeles. Britten is unable to think of anything specific requiring closure, yet Westfield was the last case he was working on before the accident, when his reality split in two different directions. Later, Britten brings the Westfield case up to Bird, who informs him that everything came up clean. Britten is just about to check the records room when a call comes in...
Bird and Britten investigate an apparent suicide where teenage Sabrina Ferris jumped to her death from the roof of her apartment building and landed on the roof of her car. The only witness is Sabrina's chubby and awkward lab partner, Tim. After a study session earlier in the evening, Sabrina seduced Tim, then started sobbing. She ran off, and by the time Tim found her she was already on the roof's ledge. After saying she was sorry, she jumped, and Tim has no idea why. The idea of the very attractive Sabrina seducing Tim seems unlikely to both Tim and the detectives, and the autopsy shows signs of rape. Britten massages a confession from Tim, who feels terribly guilty. If he knew Sabrina was going to hurt herself, he would never... Bird remarks that a case solved in five hours has to be a record, but of course, Britten isn't convinced.
Instead of talking to Harper about moving to Oregon, Britten asks her about the Westfield case. Harper explains that in the wake of the accident, she reassigned the case, and it didn't go anywhere, case closed. Vega interrupts - they've got a new case. Vega and Britten proceed to a hotel construction site to check out a corpse that's been buried in the cement foundation for three years. What's left of the remains match a description from a missing persons report on Pablo Cabrera. The detectives talk to Pablo's brother Jose, who doesn't know anyone who might have wanted to kill Pablo. Back then, Jose had only been in the country a month. Britten notices a tiger tattoo on Jose's shoulder, which reminds him of a tiger image on the Tioga College parking pass in Sabrina's car.
Britten learns that Sabrina's ex-boyfriend Chris attends Tioga College, which is 200 miles away in San Diego. The parking pass was time stamped two days ago. Intrigued that none of Sabrina's friends knew she took this trip a week before her death, Britten proceeds to San Diego. A stunned Chris says he and Sabrina broke up once he was ready for "the next level." (Sabrina believed in abstinence.) He was totally caught off guard the day Sabrina dropped by wanting to have sex then and there. She even mentioned wanting to have a baby and become a family. Since it was so obvious Sabrina wasn't herself, Chris told her to leave - no sex. Britten calls Bird with a theory: maybe Sabrina was raped before having sex with Tim and was attempting to hide an earlier assault... that might have resulted in pregnancy.
In Hannah's world, Britten returns to the Westfield building looking for clues, unaware that someone is following him. This follower calls Carl, the mysterious man who met with Captain Harper several weeks earlier: "We may have a problem... he came back again." Carl calls Harper, distraught. Everything is not under control. Harper tries to reassure Carl. The Westfield building is clean - there's nothing left for Britten to find, save rats. Carl believes Britten is still a threat, and things are already in place to "take care" of him. Carl leaves Harper with a warning to keep her head down when it happens.
Vega and Britten continue to investigate Jose's death, shaking down the crew chief at the time of the murder. All the chief can remember about a potential suspect is his moniker, El Diablo. This El Diablo was a troublemaker who was fired from job after job and earned his nickname based on his devil tattoo. While Vega is discouraged - this doesn't sound like much to work with - Britten alleges he's broken cases with less to go on. "Sometimes you just have to follow a trail, no matter where it leads you." This remark ironically mirrors Britten's pursuit of the Westfield case.
Once reports confirm Sabrina was four weeks pregnant, Bird and Britten revisit her father, John Ferris. John claims to know nothing about his daughter being raped or pregnant. While searching Sabrina's room for diaries, Britten notices scratch marks made by the dresser being repeatedly pushed in front of her door, as if Sabrina was trying to keep someone out of her room. Fearing parental sexual abuse, Britten takes John downtown. Britten asks Harper to assist, and she's able to persuade Sabrina's sister Ally to confess that John was molesting Sabrina. Tim is released as Sabrina's father is incarcerated.
Dr. Lee finds it fascinating that just as Britten is committing to move to Portland, he's found a dead case he believes he needs to reopen to find justice. Lee mentions the term "pentimento," an alteration in a painting indicating that an artist has changed his or her mind during composition. This is sometimes used to refer to works on a canvas that have been painted over. Lee contends that with each visit to the Westfield building, Britten is trying to change what's happened in the past in an attempt to make something new occur or stand out. While Lee continues with his conjectures, Britten wonders whether Jose Cabrera's tiger tattoo may actually be covering an earlier tattoo of a devil. El Diablo?
Jose makes a run for it as soon as he spots Vega and Britten approaching his house. Following an extensive foot chase, the detectives are able to apprehend him. In the interrogation room, Britten accuses Jose of actually being Pablo, the brother who'd only been in the country a month at the time of the murder. Jose confesses he had trouble adjusting to life in America and caused a lot of problems as El Diablo. The real Jose had been trying to help him, but during a scuffle, Pablo accidently killed him. Scared, Pablo stashed Jose's body on the construction site and took on his identity. The irony, El Diablo shares, is that he really did stop drinking and become a better person, the person Jose wanted him to be, after his brother's death. This is why he covered the devil tattoo. He wasn't that person any more.
Dr. Evans asks about the Westfield building. Despite not finding any leads in either reality, Britten still contends he must be missing something. Both Evans and Lee are convinced Britten is inventing this case to prevent the move to Portland. By creating a mystery that can never be solved, Britten won't make the steps necessary to truly get better and move forward with his life. The words, "You're like a desperate man, grasping at straws" are still in Britten's ears when he visits Ricky's Tacos again, hoping for another message from the drive-thru speaker. The message doesn't come.
Britten finally has his talk with Captain Harper about his intention to leave town. Harper encourages Britten, saying she believes moving is the best thing for both him and Hannah. Even though Harper will miss everything Britten brings to the department, she pledges to help him land in a good spot in Portland. Returning home, Britten sees the "For Sale" sign on his lawn. Meanwhile, Harper picks up the phone and tells Carl to call off his dogs... Britten has just resigned.