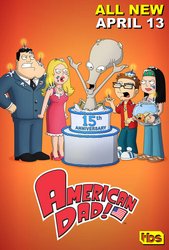 TV Info
---
Episode Premiere
May 13, 2007

Distributor
TBS

Genre
Animation, Comedy

Show Period
2005 - now

Production Company
Fuzzy Door Prod., Atlantic Creative, Fox TV


Cast and Crew
---
Director
Mike Kim
Screenwriter
Steve Hely
Main Cast
Seth MacFarlane as Stan Smith / Roger the Alien (voice)
Wendy Schaal
Rachael MacFarlane
Scott Grimes
Dee Bradley Baker
Additional Cast
Synopsis
---
Stan is testifying before Congress over serious charges brought against him. He recounts a tale that starts with him picking up Steve from school. He sees that school, especially PE has changed since he was in school. For one, the teacher is a woman, and the sports are non-competitive. On the ride home, Stan berates the kids for being weak but the boys are fine with being weak.
Roger goes into Hayley's room and interrupts her while she's reading a book. He convinces her to pretend to be his girlfriend so the cashier at Booze Town, a local liquor store, will be jealous and fall in love with him.
In the front yard, Stan comes outside expecting the boys to playing a tough game of football but instead, they are in the shade pretending the ball is a panda egg. They explain they are in the shade because they are afraid of the UV rays. They complain that being outside is hard but Stan tells them that they need to do things that are hard so they can become tough.
At Booze Town, the charade is on and Hayley is pretending to be in love with Roger. They leave laughing and Roger realizes he loves Hayley.
At home, Stan comes up with an idea to make the boys tougher. He wakes them up at 5 AM to put his plan into effect. Inspired by George W. Bush, he decides to make the boys tough by turning them into ranchers. He takes them to the backyard where he has filled the backyard with cows. When Steve's friends try to leave, Stan tells them that their parents told them it was ok for him to keep them at his "ranch".
Roger makes Hayley a diorama. Hayley explains to her mom that Roger has a crush on her and calls her the prettiest girl in the house. Francine gets a little jealous because she lives in the house too.
After a day of ranching, the boys are tired and hungry. Stan tells them that they need to kill a calf they have fallen in love with to eat. They refuse to do it but Stan forces the one who loves the calf the most kill it. They BBQ the calf and Stan eats it but the boys are too traumatized to eat it.
In the house, Roger is sketching Hayley when Francine comes to the table in a sexy dress. Roger immediately notices and starts sketching her instead. Hayley tries to get Roger to pay attention to her again by inviting him to Red Lobster with her, but Francine says she will take him to a bar instead. Roger goes with Francine.
The next day in the backyard, Stan wakes up to find himself alone. He goes inside and sees the boys watching cartoons. Steve explains that they don't want to be tough, they want to watch cartoons. Stan says they need to be tougher and do a cattle drive. They drive the cattle across town.
Francine answers the door to find two agents from the Department of Agriculture. They explain that the cattle Stan bought have mad cow disease and that anyone who eats the meat will go crazy. She tells them they are driving the cattle to the slaughterhouse.
On the cattle drive, Stan is acting crazy and the boys finally realize he has gone bonkers. Stan hallucinates that he is in a natural setting and breaks into song. Stan tells the boys that he is going to cross a highway that he thinks is a river. The boys agree to relieve him of command. They devise a violent plan to take him out but when they look at him, they realize he is much bigger than them so they wuss out. Stan goes for the highway but gets stranded on a log truck. The boys come to his rescue. The boys decide to finish their cattle drive and take the cows to slaughter.
In the attic, Hayley is made up and when Francine and Roger come back, Roger gives Hayley all the attention. Francine and Hayley start fighting. Roger starts videotaping them. They ask him why and he says that he is putting it up the video on a catfight site to win a free T-shirt. He confesses to arranging the entire jealousy thing for the T-shirt.
At the slaughterhouse, the Department of Agriculture agents try to stop the cattle from entering herd but the boys say that men never give up and drive the cattle into the heard.
Back at the Congressional hearing on mad cow disease, Stan is finishing his story and is going to be punished by Congress when the boys stand up for him. They tell Congress, that Stan taught them how to be men. Congress like what he did and lets him off.