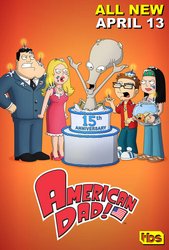 TV Info
---
Episode Premiere
April 29, 2007

Distributor
TBS

Genre
Animation, Comedy

Show Period
2005 - now

Production Company
Fuzzy Door Prod., Atlantic Creative, Fox TV


Cast and Crew
---
Director
Rodney Clouden
Screenwriter
Kenny Schwartz, Rick Wiener
Main Cast
Seth MacFarlane as Stan Smith / Roger the Alien (voice)
Wendy Schaal
Rachael MacFarlane
Scott Grimes
Dee Bradley Baker
Additional Cast
Synopsis
---
Francine is taking Stan for a blind folded walk in the park for their anniversary. When they get to a rose bush, Francine un-blindfolds Stan and tells him that she planted the rose bush to celebrate the first time they made love. Stan is happy and walks over to another part of the park and sees that many other people have planted similar rose bushes. She tells him that she planted all of them to celebrate all the men she's slept with and there are acres of rose bushes.
In the kitchen at home, Steve is eating breakfast while Hayley chugs a Cougar Boost energy drink to help he cram for finals. When she opens the can, it lets out a cougar roar. Steve is intrigued so he takes a sip and is overtaken by a strange energetic feeling and starts dancing.
In bed, Francine is trying to get Stan ready for sex but Stan is upset that he has only slept with her and she has slept with multiple partners. They argue about it when Roger comes out of the closet and tells them that he can't get drunk with all their dirty talk.
On Friday night, Steve's friends come over to tease pedophiles on the internet but find that Steve has disassembled his computer in a Cougar Boost frenzy. His friends tell him he needs to lay off the sauce.
Later, Francine comes to apologize to Stan but he won't accept her apology. She tells him that he can go out and have sex with another woman to see that sex without love is meaningless. Stan says he can't do that because he will be breaking God's laws. The next day, Francine serves Stan divorce papers so he can go out and sleep with other women. They sit down with the kids and tell them the whole story. The kids are shocked but when Hayley tells Steve to speak up, he asks her for money for more Cougar Boost.
Stan is getting dressed up when Roger comes in dressed like a Persian stud. They go to a nightclub and Stan goes up to random women and yells "intercourse" at them to get them to sleep with him. He realizes he needs to tone it down.
At home, Steve tries panhandling money from Hayley and Klaus so he can buy Cougar Boost.
Roger is at a booth surrounded by three girls when a dejected Stan comes up to him and tells him he's going home. Stan ends up at the shooting range watches a woman with excellent shooting skills. They dare each other to shoot each other which they end up doing. The next thing you know, they are in a restaurant having drinks telling each other about themselves and they have a lot in common. The waiter delivers their fondue and describes it as very hot and that they should wait 30 minutes to eat it. Stan and the woman start saying how they are going to eat it no matter how hot it is and start daring each other to eat it. The night ends with the woman dropping Stan off at home after they go to the burn ward. Stan gets home and sees Francine on the couch watching TV. She asks him if he got some, he says no but he did meet a nice woman named Joanna and that they had a lot of fun. Francine is mad and tells him that he was supposed to have sex with her not date her. He says they are going out again. Joanna calls Stan on his cell phone and he goes upstairs to take the call.
The next morning, Roger is on the phone with the phone company debating some suspicious phone calls when Francine comes in. He introduces her to the bar skanks he brought home the night before and she confides in him that the whole divorce thing was a bad idea. Roger tells her to go to him and tell him she made a mistake.
At Pearl Bailey High School, Steve's friends are excited that he has given them Battlestar Galactica on Ice. He says that he needs $20 a ticket from them because they're in high demand. They don't want to pay so he takes the tickets back, so they realize they want them and buy them from him.
Meanwhile, Francine tries to apologize to Stan but he says that he has already married Joanna. She comes to the door and Stan asks Francine to take a picture of them together. They sit at the dinner table with the family and Joanna and Stan tell them about how their marriage came about. They were on the beach and started daring each other about how committed they are to things. They came across a wedding on the beach and dared each other to get married. Joanna leaves to go to the car and Francine asks him how he could do this. He says he is sorry but has to leave to go to his honeymoon. Later, Francine is commiserating with the bar skanks who tell her single life is great. Roger comes downstairs and verbally abuses them before he takes them out. Francine vows to never let herself become like that again and goes to the hotel to stop Stan from consummating his new marriage. She goes around the hotel to various rooms until she finds him. Stan is about to make love to his wife when he hesitates - she asks him is there's something wrong.
At home, Steve's friends are in his room waiting for him to come home. He gets there and thinks it's an intervention but they beat him up for selling them fake tickets.
Francine is at the hotel bar having a drink feeling sad for herself for being single again. A guy comes up to her and asks her do him in the bathroom when Stan comes up and punches the guy. She is surprised to see him and asks him why he's there. He tells Francine kept thinking of her because he only loves her. She says he is happy that he didn't sleep with Joanna but Stan says no he did sleep with her and realizes what she meant when she said sex without love is meaningless.
At a bar, Roger tells his skanks that they are free to go and at home, Stan and Francine tell Hayley that they are married again but they had to give Joanna half of their furniture in a divorce settlement. They also had to give her joint custody of Steve.