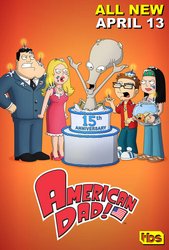 TV Info
---
Episode Premiere
April 01, 2007

Distributor
TBS

Genre
Animation, Comedy

Show Period
2005 - now

Production Company
Fuzzy Door Prod., Atlantic Creative, Fox TV


Cast and Crew
---
Director
Caleb Meurer
Screenwriter
David Zuckerman
Main Cast
Seth MacFarlane as Stan Smith / Roger the Alien (voice)
Wendy Schaal
Rachael MacFarlane
Scott Grimes
Dee Bradley Baker
Additional Cast
Synopsis
---
At the CIA, the agents are sitting around a conference table trying to figure out creative ways to assassinate someone. Stan comes up with an idea involving a midget but Bullock shoots it down and makes the agents work late. Some of the other agents say that Bullock doesn't want to go home because his wife is being held as a hostage in Fallujah and that he needs to find a new woman.
At home, Stan asks Francine is she can hook Bullock up with one of her friends. Francine doesn't want to until Stan tells Francine that her friend Melinda would be a great match for him. Francine agrees but then explains to Stan that it might not work out and doesn't want to have to say "I told you so". Stan drops Klaus on the floor creating a diversion that Francine has to clean up. After she leaves, Stan tells Klaus he didn't want to hear her say "I told you so".
Roger is talking a walk in the mark with Steve and Hayley when a kid points at Roger and says, "Look there's the monster." Roger's feelings are hurt because the kid also pointed out that Roger doesn't have a nose.
Later at dinner, Melinda shows up to a restaurant where Stan, Francine and Bullock are. Melinda says that Bullock is too old and Stan tries to smooth things over by ordering a lot of alcohol.
At home, Roger is still sad about being called a monster so Hayley and Steve find some latex noses and have him try some on. He likes the Kevin Bacon nose and wants to go back to the park to show the kid.
Back at the restaurant, Melinda is all over Bullock and is really eating up his accent. Francine is turned on by Melinda and Bullock making out so they go home to have some maritals.
Stan gets a call from Bullock telling him that he needs his help so Stan comes over to find Melinda dead. Bullock tells him that she came up behind him to hug him and reflexively killer her with his CIA training in killing. He tells Stan that he will have to hide the body. Stan doesn't want to hear Francine say "I told you so."
The next day at the park, Roger goes to show off his new nose. The kid thinks he is Kevin Bacon and so does everyone else. People start offering him free stuff so he asks Hayley and she says that he should accept.
Francine wakes up hung over and wants to check in with Melinda about the date. Stan tells her that she was so drunk she can't remember that she and Melinda got into a fight and that Melinda doesn't want to talk to her.
At a fancy restaurant where "Kevin Bacon", Steve and Hayley are eating at for free, Roger is yelling at a waiter for more free wine. Steve and Hayley think Roger is being unethical.
At the CIA office, Francine asks Stan about Melinda. Stan and Bullock lie about what happened on the date and Francine goes away but not before mentioning going to the police to report Melinda missing. Bullock asks Stan if Francine has other friends he can hook him up with.
The next day, Stan takes Francine's car to work, and when he starts up the car, a midget jumps out of the steering wheel and chokes him. He realizes that Bullock is trying to kill Francine. At the office, Stan is yelling at Bullock about trying to kill Francine. Bullock tells Stan to kill Francine or he will have to hear "I told you so."
Roger is at a clothing store with Steve and Hayley demanding free clothes. They tell him that he is making Kevin Bacon look bad and that he needs to stop. He refuses and goes foot loose dancing around the mall.
Stan is having a drink with Francine at a bar. They are waiting for Melinda to show up so Francine can apologize. Stan gives her a poison drink and she passes out. Francine wakes up to find a knife in her hand and Melinda's stabbed body next to her. Stan makes up a story about the night and gets Francine to believe she killed Melinda in a drunken blackout. They grind up her body but Francine is riddled with guilt.
Roger comes home to Steve and Hayley and apologizes for being a jerk. Then on TV a news report shows Roger as Kevin Bacon involved in a hit and run. They traffic video shows Roger hitting a man and shooting him to make sure he's dead. The real Kevin Bacon is arrested.
Francine feels so guilty about killing Melinda that she decides to go to India to help the poor. After a few months, the family misses Francine. Stan comes into the kitchen with some hot chicken. Roger goes to eat it but burns his fingers over Stan's exhortations to use a mitten. Stan is about to say "I told you so" until Roger says "you were right." Stan is completely disarmed by Roger's saying that he was right that he decides to go to India and get Francine back. In India, Stan tells Francine what happened and she is mad and screams at him. He vows to fix everything. He takes the Indian baby Francine adopted and gives it to Bullock. Bullock is happy and Stan doesn't have to work late anymore.