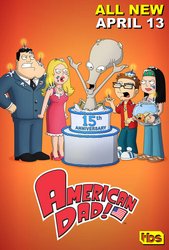 TV Info
---
Episode Premiere
February 11, 2007

Distributor
TBS

Genre
Animation, Comedy

Show Period
2005 - now

Production Company
Fuzzy Door Prod., Atlantic Creative, Fox TV


Cast and Crew
---
Director
Joe Daniello
Screenwriter
Dan Vebber
Main Cast
Seth MacFarlane as Stan Smith / Roger the Alien (voice)
Wendy Schaal
Rachael MacFarlane
Scott Grimes
Dee Bradley Baker
Additional Cast
Synopsis
---
Steve is on the couch quizzing himself on the periodic table when a fresh from the drier Roger comes up to him and tries to get him to watch a spousal abuse movie on Lifetime Network. Steve says he can't because he's studying for the science club. Roger turns on the movie anyways.
In the car, Stan is calling Francine fat. She says there is nothing he can do to make her forget what he has said, so he drives her to the Mr. Pibb factory and she forgets all about it. They reminisce how Mr. Pibb has gotten them through some hard times. At the Pibb factory tour, the tour guide Bob is bored to see them again.
Back home, Steve is working on a chemistry project when Roger forces his help upon him. Roger ruins the project and Steve tells him he doesn't want to see him anymore. Roger goes up to the attic and cries.
At the Mr. Pibb factory, Bob is taking Francine and Stan on another tour of the factory when Bob tells them that Mr. Pibb is being discontinued. Stan and Francine vow to start a grassroots campaign to save Mr. Pibb. They decide to get a million signatures on a petition to the maker of Mr. Pibb to save the brand. Francine asks how they can make a difference and Stan tells her that they have help in the form of the Pibbmobile which they see in the factory parking lot.
Roger is out on a bender and ends up in a child's backyard shed. The kid finds him and is ecstatic to find that he has his own alien. The kid takes him into his house while Roger is still waking up from his hangover. Roger tries to go home, but the kid promises to be his friend, so Roger decides to stay.
Stan and Francine steal the Pibbmobile and go around the city trying to spread the gospel of Mr. Pibb.
Stan is waiting sadly in Roger's attic when Roger comes home and tells him that he has found a new boy to be his friend. Stan wants Roger back but Roger doesn't want Stan back.
Roger and his new friend Henry are playing video games and Roger is lapping it up. He says Steve is always too busy for him. Roger wants to play other games but Henry wants to play video games. He pushes Roger hard against the wall. Henry apologizes and starts crying so Roger forgives him.
Stan and Francine are having a televised press conference to promote Mr. Pibb when the brass at Mr. Pibb Company see him and find out that the Pibbmobile has been stolen.
Roger and Henry are hanging out when Roger decides to go home. Henry thinks Roger is going to hang out with Steve, so he gets jealous and tells Roger he needs to be taught a lesson and takes him into the shed to beat him. At home, Roger is wearing sunglasses to hide his black eyes when Steve sees him on the couch. Roger makes excuses for Henry but Steve isn't buying it. Henry comes over and Roger is excited to see him, but Steve tells Henry to stay away. Roger goes with Henry anyways.
Steve is crying in the kitchen when Hayley asks him why. He says it's because Roger wants to be with Henry. Hayley explains the intricacies of codependency to Steve.
At the Naval Academy graduation, Stan is giving the graduation speech honoring Mr. Pibb when the Mr. Pibb executives tell him he can't make pronouncements on behalf of their product. They demand he give back the Pibbmobile. Francine agrees to the demands but they drive away in the Pibbmobile before they executive catch them.
Steve gets a call from Roger who is at Henry's house. Roger tells Steve to come over because Henry is being abusive and is threatening to kill him. Steve comes over and gives Roger a plan to break away from Henry. Later, Roger is pretending to die and tells Henry he has called his fellow aliens to pick him up.
At the house, the Mr. Pibb executives show up with the actual man Mr. Pibb. He tells them that he needs to let go of Mr. Pibb and that he should try there new product - Pibb Xtra! Stan realizes that he isn't in love with Mr. Pibb, he's in love with drinking soft drinks with Francine. The executives look around for the Pibbmobile but it's nowhere to be found.
At a clearing in the woods, Henry is waiting with Roger for the aliens to pick him up. Steve pulls up in the Pibbmobile which he has disguised as a spaceship. Henry almost buys it but he quickly realizes that the spaceship is a ruse. Henry promises Roger he will treat him better but Steve tells him that Roger is his best friend. Roger is touched but Henry yells at him to go with him. Roger punches him in the stomach and goes home with Steve.