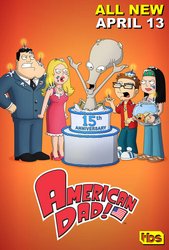 TV Info
---
Episode Premiere
November 12, 2006

Distributor
TBS

Genre
Animation, Comedy

Show Period
2005 - now

Production Company
Fuzzy Door Prod., Atlantic Creative, Fox TV


Cast and Crew
---
Director
Anthony Lioi, Kurt Dumas
Screenwriter
Michael Shipley, Jim Bernstein
Main Cast
Seth MacFarlane as Stan Smith / Roger the Alien (voice)
Wendy Schaal
Rachael MacFarlane
Scott Grimes
Dee Bradley Baker
Additional Cast
Synopsis
---
Stan and Francine are driving home from date night. Stan is happy, but Francine thinks they're in a rut. At a red light, another driver wants to race. When the light turns green, the muscle car roars away, and Stan just writes down the man's license plate number.
Hayley and Jeff sit on the couch, watching TV. Jeff is showing way too much attention to Hayley and she dumps him.
Steve and his nerdy friends return home, talking about their favorite game, Dragonscuffle. Steve's friends obey ever command.
Francine wonders aloud about the man they raced in the street last night. Roger tells Stan that Francine is fantasizing about the man because Stan is boring.
Steve plays Dragonscuffle, and is dominating online. Jeff crawls through his open window and presses his bare chest to the wall that Steve and Hayley share. Steve tells Jeff that he's playing Dragonscuffle, and that he's spent four years creating his ultimate character. Jeff wants to know more.
Stan wakes up at night and finds Francine watching racing movies on television. Francine tells Stan he's having a dream and slides back to bed. Stan stumbles into the attic with a bottle of booze in his hand, begging Roger for help. Roger tells Stan that all she wants is a little excitement.
Jeff plays Dragonscuffle alongside Steve in Steve's room. Hayley goes to ask Steve a question and finds Jeff there. But Jeff is no longer interested in Hayley.
Stan drives Francine to an illegal street race. Stan sets up his first race and is able to win. Francine tackles him. Stan quickly becomes the hottest racer in underground racing.
Hayley wants to win back Jeff. Klaus tells her that the problem isn't Steve, it's Steve's character in Dragonscuffle. If she can kill him, she'll get Jeff back.
Inside the game, the nerds celebrate another victory. Hayley's character appears and challenges Steve's character. Klaus gives Hayley, Steve's weakness. Saying his character's name backwards. Steve's character topples over, the nerds are silent.
Stan works his way to number 2 on the underground racing list. The other man, Bard, has to beat is the man who blew him away on date night. Stan challenges Brad to a race.
Brad defeats Stan again. Francine is furious, and Brad comes to collect fifty-thousand dollars that Francine bet on the race. The thugs take Francine until Stan can get the money.
The nerds look down on Steve. They make him carry their backpacks. Hayley sees that she destroyed Steve's reputation.
Inside Dragonscuffle, Hayley looks to revive Steve's character. She tells Jeff she knows how, and the two set out across the lands of Dragonscuffle in search of the Amulet of Resurrection.
Stan and Roger arrive at the rendezvous point. Brad stands nearby with Francine bound and gagged. Stan throws a briefcase, half-filled with cash and phone books, at Brad and grabs Francine. Stan, Roger and Francine make a run for it.
Brad and his gang chase after them. Roger dismantles the SUV to lighten the load. Roger tosses his collection of Rod Stewart records back and they knock Brad off the road.
Hayley and Jeff make their way through a palace where the Amulet is held. The only thing between them and Steve's life is a giant cave-beast. Jeff and Hayley team up to defeat the beast and retrieve the amulet. Hayley thrusts the amulet into Steve's behind and Steve's character jumps back to life.
Stan tells Francine they can keep racing if she wants it. But in the end, all she really needed was a little change. Francine only asks that they change the dinner location.