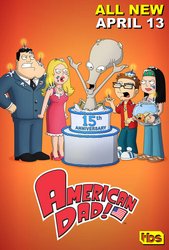 TV Info
---
Episode Premiere
May 14, 2006

Distributor
TBS

Genre
Animation, Comedy

Show Period
2005 - now

Production Company
Fuzzy Door Prod., Atlantic Creative, Fox TV


Cast and Crew
---
Director
Brent Woods
Screenwriter
Chris McKenna, Matt McKenna
Main Cast
Seth MacFarlane as Stan Smith / Roger the Alien (voice)
Wendy Schaal
Rachael MacFarlane
Scott Grimes
Dee Bradley Baker
Additional Cast
Kate Jackson
John DiMaggio
Synopsis
---
The Smiths sit around Francine and a birthday cake. It's Francine's 39th birthday and she is not happy about it. She flips outs and throws the cake around the room. Hayley points out that her mother gets more depressed every year.
Francine sits in her bed watching an episode of Scarecrow and Mrs. King where Francine had a small part as a hotel receptionist. Francine and Stan watch the scene and suddenly George Clooney steps on Francine's lines.
Francine leaves the grocery store and a swarm of paparazzi swarm around her. Stan pulls up and saves her. Stan admits that he hired paparazzi to follow her. Francine tells Stan that her new dream is to destroy George Clooney. She wants to break Clooney's heart for what he did to her.
Stan and Francine fly to Prague where Clooney is filming his latest movie.
Inside their hotel room, Stan has set up a war room filled with murders and thieves to track Clooney.
Roger fills the Smith swimming pool with soil, intent on building his own vineyard. Roger is too weak and lazy to do the work himself and plans to hire foster children to do the work. Hayley comes outside to stop Roger but is interrupted by a horrible cough.
Stan's war room is set up across the street from Clooney's hotel. It has been arranged that Stan will be Clooney's body guard and Francine will be trained by Sergei Petcov to get inside Clooney's head and resist his charm.
The foster children dig away at the soil in the pool and Roger denies them a water break. Steve is tired of sharing the house with all the foster kids, but Roger assigns him two beautiful girls to be his personal assistant. The phone rings and it's the doctor for Hayley with her test results.
Stan enters Clooney's trailer and says he's his new body guard. But Clooney says he doesn't need him, just his "boys." Clooney tells the guys that he bought them new motorcycles and they drive them off. Stan follows them in a semi-truck. He forces them into a cargo box and ships them over seas.
On set, Clooney finds out Stan sent his friends to China. He believes that it was a practical joke and says that Stan is now one of his "boys."
Roger uses the kids to decorate their dinning room table for Thanksgiving and serve Roger and Steve food. Hayley stumbles out of the kitchen with clumps of hair missing from her head and looking exhausted. She tries to stop Roger but collapses into a chair.
Stan and Clooney ride down a rural road on their bikes, when the pass Francine playing golf and the wind blowing in her hair. Clooney is instantly taken with her. Francine jumps on a motorcycle and races away.
At Christmas, Roger has the kids pouring warm water into the vineyard soil to keep the vines from freezing. Hayley, now bald and very sick, tries again to keep Roger from abusing the kids.
Stan leads Clooney a bar where Francine is waiting. George hits on Fr1ancine and the second part of Francine's plan begins.
Clooney and Francine go on several dates and Clooney is falling in love with her.
Clooney tells Stan that during his next date he's going to tell Francine that he loves her.
The team in the war room celebrates Clooney's demise and Stan is glad he can stop pretending to like Clooney. Stan excuses himself and the team watches surveillance video of Stan warning Clooney about Francine's plan. Francine screams in agony of her husband's betrayal.
Stan returns to the war room and sees the footage of him warning Clooney. The lights go out and Francine watches him through a night vision scope. Stan can't see her and begs for her forgiveness. She flips the lights on and Stan handcuffs her to the radiator so she won't kill Clooney.
Child Protective Services finds Roger ordering the kids to mash grapes with their feet in the Smith backyard. Hayley walks out and tells Roger that she had promised he would be stopped. Child Services tells the kids they're free and they celebrate.
Francine pulls up next to Stan on a motorcycle and shows him that she cut off her own hand to stop Clooney. They race their motorcycles up a hill to a spa where George is staying. At the top of the hill, Francine blinds Stan with blood from her severed wrist. Stan crashes his bike and slides over a cliff.
Stan holds on as best he can, and demands to know what all of this was about. Francine tells him that no one depends on Clooney all the time, like the Smiths do on her. Stan tells her that while no one depends on Clooney, Francine has a family who loves her and does depend on her.
Stan and Francine pack to go home and Stan has one last thing to do. He goes to Clooney's hotel and breaks up with Clooney. George tries to stop him, but it doesn't work.Francine watches the surveillance camera and sees George crying. She got her wish.