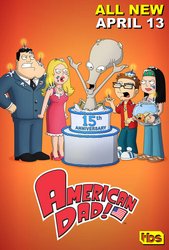 TV Info
---
Episode Premiere
April 30, 2006

Distributor
TBS

Genre
Animation, Comedy

Show Period
2005 - now

Production Company
Fuzzy Door Prod., Atlantic Creative, Fox TV


Cast and Crew
---
Director
Caleb Meurer
Screenwriter
Nahnatchka Khan
Main Cast
Seth MacFarlane as Stan Smith / Roger the Alien (voice)
Wendy Schaal
Rachael MacFarlane
Scott Grimes
Dee Bradley Baker
Additional Cast
Fred Tatasciore
John DiMaggio
Synopsis
---
At Groff Community College, Stan pouts that Francine tricked him into seeing Hayley's student film. Hayley's film begin and shows several important women in history followed by her mother cleaning toilets and sewing socks.
On the way home, Francine is upset about how she was portrayed in Hayley's film. As they pull up to their house, a wild party rages across the street.
Stan bursts in the front door and sees Steve and his friends sitting around a chemistry set. Stan forces Steve out of the house and to the party.
When Hayley comes home, Francine begs to know why Hayley would trivialize her life. Hayley says there are women changing the world while her mother stays at home building battleships out of cucumbers.
Stan asks Klaus what he thinks Steve is doing at the party and hopes that Steve is and having a great time. Steve and his friends return from the party miserable and beat up. Snot tells Stan that those parties are for jocks.
Steve sits on a bench next to his school's pool, now forced to be part of the water polo team by Stan. Stan yells at the coach until the coach gives up and lets Steve play. Steve jumps in the pool and sinks to the bottom.
When Steve regains consciousness, the jocks laugh at Steve's failure and walk away.
Francine attends a shady "One Day Change Your Life Workshop" where a woman tells her she can be certified as a rocket scientist, nuclear physicist, surgeon or federal court judge. Francine wants to be a surgeon.
Stan has a plan to make Steve better at sports and make him popular. Stan hands Steve steroids that he was able to take from the CIA laboratory. But Steve says it doesn't matter, he'll never be like the popular guys. Stan won't let him give up and Steve grabs the steroids and swallows them.
Francine tells Hayley that she became a surgeon and shows Hayley her diploma, which Hayley points out is printed on the back of a take-out menu.
Stan reads the paper when Steve comes downstairs in a rage. He tells his dad that he is experiencing a side effect. He takes off his robe and shows his father that he now has large breasts.
Stan hands Steve several t-shirts to wear and ace bandages, then tells him the CIA scientist will be back from vacation in a few days. But until then they have to keep his chest hidden.
Francine and Hayley meet in the hall where Francine angrily tells Hayley that she has a job interview at a hospital and she's going to be a doctor.
Steve tries to conceal his chest at school but the layers of clothes make him sweat. When he opens his shirt the most popular jock in school, Vince Chung compliments him on his chest.
The man interviewing Francine tells her that her degree is a joke and that no one is going to hire her. As Francine leaves the hospital a van pulls up and the door opens. One man holds his bleeding friend and shouts that they need a doctor and they don't have insurance. Francine jumps in the van.
Stan picks Steve up from school and asks if anyone saw his chest. Steve lies and says no. Steve's friends ask if he's going to work on the science fair project as Vince and other jocks pull up in their jeep. They invite Steve to the river and Stan convinces Steve to go.
Steve splashes around the river in a tank top while the jocks watch from shore.
Francine finishes the stitches on the bleeding man's arm. And older man, Johnny Four Legs, introduces everyone in the room. Blind Jimmy, Large Monty and Little Tex, and Deaf Teddy. Johnny offers Francine a fulltime job as a physician for the Handicapped Mafia.
Steve comes home and Stan begs for details about his day.
Francine walks in the front door covered in blood and Hayley can't believe it. Francine's pager beeps and she heads back to work. Hayley interrupts Steve telling his story to tell Stan about Francine.
Stan throws a wild house party for Steve. Steve's nerd friends arrive and Steve avoids working on the science project.
Stan heads upstairs as the party rages on and finds Steve laying on his bed reading as a line of boys wait to feel Steve's breasts. Stan throws everyone out of the party and orders Steve to stay in the house until his breasts are gone. But Steve is part of the popular crowd now and was invited to a party at Vince's.
Francine enters a handicapped strip club and walks into Johnny's office. When she finds Large Monty and Blind Jimmy beating on a man tied to a chair, Francine wants out. But Johnny refuses. Deaf Teddy finds Hayley eavesdropping and drags her into the office.
Stan races home with the antidote for Steve. Stan finds Steve's bedroom window open and knows he's at Vince's party.
The thugs hold Francine and Hayley hostage in the back of a van. Francine tells Johnny that she's disappointed that the gang isn't living up to their potential and convinces the guys to rob the First National Bank. When the men charge the bank, they're mowed down in hail of gun fire. Francine closes the van door and drives off.
At Vince's party, Steve is wearing a tube top and is surrounded by jocks. Stan shows up and forces his way through the crowd to reveal that he now has giant breasts. Stan walks around proving to Steve that his new friends don't care about him, just his chest.
Hayley tells her mother that she underestimated her as they arrive to find Roger pouring gasoline on the carpet. He's going to burn the house down to clean up the mess from the party.
Stan and Steve share pizza and Steve admits that the guys only liked him for his body. Steve tells Stan that he was having a good time with his old friends and Stan is okay with Steve hanging out with his dork friends.