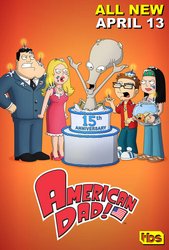 TV Info
---
Episode Premiere
December 18, 2005

Distributor
TBS

Genre
Animation, Comedy

Show Period
2005 - now

Production Company
Fuzzy Door Prod., Atlantic Creative, Fox TV


Cast and Crew
---
Director
Brent Woods
Screenwriter
Dan Vebber
Main Cast
Seth MacFarlane as Stan Smith / Roger the Alien (voice)
Wendy Schaal
Rachael MacFarlane
Scott Grimes
Dee Bradley Baker
Additional Cast
Megyn Price as Linda Memari (voice)
Ryan Drummond
Jason Douglas
Sandra Oh as Toshi's Mother / Katie (voice)
Synopsis
---
While grocery shopping with her friend Linda, Francine sees a prestigious group of housewives called, "The Ladybugs" walk into the store. Francine approaches the ladies looking for an in, but the Ladybugs reject her. As Francine leaves the store, a crowd is surrounding the body of a woman who has been crushed to death in the shopping cart return. Before police officers can off the dead woman's dog, Francine volunteers to take care of it.
Hayley catches Steve and Klaus reading her diary and locks Steve and Klaus in her bedroom closet.
Francine returns home with the dog, which she has named "Fussy." Stan doesn't want Fussy because it isn't a manly dog. Francine says if he wants to get rid of the dog, he must find it a good home.
Stan takes Fussy and tries to get it adopted on a morning talk show and when that fails, he leaves the dog on the side of the road.
Later, the doorbell rings, and Stan finds Fussy sitting on the head of a dragon. Roger enters the room, and Fussy tries to chase him down. Stan realizes that Fussy might have potential after all.
Francine goes to a Ladybugs arrives art gallery event but before she can talk to the Ladybugs, she ends up making a mess of her dress. When the valet tries to help her, things only get worse. The Ladybugs see Francine exit a supply closet with the valet and believe Francine is having an affair with him. The Ladybugs admit to having affairs and think that Francine is Ladybug material.
Stan, dressed in a pink polo goes to work, and brings Fussy with. Bullock gives Stan a mission, but Stan passes on it because he now has Fussy depends on him.
Roger scours the cupboards for snacks, and only finds Fussy's treats. Roger discovers that when he smells like treats, Fussy doesn't growl at him. Roger plans to use Fussy to get back at Stan.
Steve and Klaus are now hardcore closet prisoners. Steve inks a tattoo on his arm and Klaus inquires about getting a shiv.
Francine tells the Ladybugs that she wants out and comes clean about the fake affair. Since Francine has dirt on the Ladybugs, the Ladybugs want dirt on Francine. They give her twenty-four hours to have a real affair or they'll kill her.
Francine thinks she's safe in her home, but the Ladybugs have burned several of Stan's shirts and switched the spices in her spice rack. The Ladybugs call and tell her if they can get into her home, they can get to Stan.
Francine comes clean to Stan about her fake affair so he can help her. Stan swears to protect his wife until Roger makes Stan jealous when he pretends that Fussy gave him a gift certificate to a spa.
Francine seeks help from the police department, but a female officer shows Francine her Ladybug broach and Francine flees. She heads to the editor of the Langley Falls Post and he tells her to talk to his assistant. Francine turns to a young woman who pushes back her hair and reveals another Ladybug broach.
Stan goes to the pet store for advice on how to win back Fussy from Roger. A pet store employee tells Stan that he has to show the dog that he's the alpha male. When Stan returns home, he jumps Roger and begins to beat him in front of Fussy.
Stan chases Roger down to finish the job. When he finally corners Roger, Roger punches Stan in the groin and drops him to his knees. When Roger turns his back, Stan grabs him and throws him through the wall and into a closet. Stan then notices that Fussy has escaped out the front door.
Steve and Klaus slowly crawl out of the hole in the wall created by Roger's body. Hayley says they're free to go, but Steve and Klaus are used to a life behind bars and opt to stay in the closet.
The Ladybugs corner Francine in the grocery store parking lot and chain her to a cart return at the grocery store when Stan shows up. Francine thinks he's there to save her, but just looking for Fussy. He finds Fussy in a dark alley licking the face of a sleeping homeless man. Stan knows that Fussy can never give her love to just one man.
Linda arrives to stop the Ladybugs before the crush Francine in the cart return. Linda asks that they let her say goodbye to Francine and passionately kisses Francine. The kiss is enough for the Ladybugs to have enough dirt on Francine to let her live. The kiss between Linda and Francine ends awkwardly when Francine is blind to Linda's crush on her.