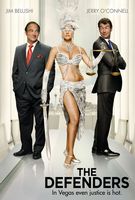 February 27, 2014 08:02:59
Four Netflix series based on Marvel's characters will be filmed in New York. Gov. Andrew M. Cuomo and Disney CEO Bob Iger announced on Wednesday, February 26 a new production deal that will accommodate the production of at least 60 episodes of the new shows.
The Walt Disney Co., the parent company of Marvel Entertainment, will spend $200 million over three years filming the four new shows and is expected to "create at least 3,000 jobs, including 400 full-time jobs." In return, the company will receive $4 million in tax breaks.
...
November 07, 2013 10:11:54
Disney and Netflix are teaming up to stream at least four original series based on Marvel characters such as Daredevil, Jessica Jones, Iron Fist and Luke Cage. These shows will start streaming in 2015.
In a joint announcement released Thursday, November 7, Disney and Netflix revealed that the four thirteen-episode series will culminate in a miniseries titled "
The Defenders
". Apt to its title, the miniseries "reimagines a dream team of self-sacrificing, heroic characters."
...