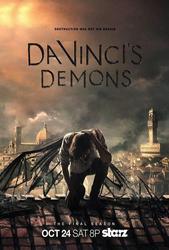 TV Info
---
Next Show
Eps 3.01:
October 24, 2015
Category
TV Series
Genre
Drama
Seasons
3
Production Co.
Starz Entertainment, BBC Worldwide Productions
Distributor
Starz
Official Site
click here

Cast and Crew
---
Main Cast
Tom Riley as Leonardo Da Vinci
Laura Haddock as Lucrezia Donati
Blake Ritson
Elliot Cowan
Lara Pulver
James Faulkner
Gregg Chillin
Eros Vlahos
Hera Hilmar
Tom Bateman
Alexander Siddig
Carolina Guerra
The Story
---
In a world where thought and faith are controlled, one man fights to set knowledge free.
Leonardo Da Vinci is tortured by a gift of superhuman genius. He finds himself in a conflict between truth and lies, religion and reason, past and future. His aspirations are used against him by the opposing forces of the time - luring him into a game of seduction where those who despise his intellect need him most. His quest for knowledge nearly becomes his undoing.
Da Vinci throws himself into his genius and emerges as an unstoppable force that lifts an entire era out of darkness and propels it into light. His story becomes a mirror into our own world, calling us all to join his fight to free the future.
The Stills
---