April 15, 2010 03:54:06 GMT

attempts to stay current by calling fans of and "". At her official website, Oprah announces that she wants to hear from people who have been infected by Bieber Fever as well as those who are devoted to the vampire flick and its cast.

"So if you consider yourself the biggest Bieber fan, we want to hear from you!" the announcement says. Fans must submit a story, maximum 2,000 characters, on "what you love about Justin Bieber and why?". Pictures or videos are welcomed along with the submission.

April 15, 2010 02:20:52 GMT

Andrew Garcia who was judges' early favorite in the season has gone home from "". Garcia struggled with delivering a good performance since the Hollywood week where he impressed the audience with a strip down version of 's "Straight Up".

Garcia was the first out of two who left the competition this week. Since judges had used their authority to save Michael Lynche last week, the show is letting go two persons. The other one is Katie Stevens, the 18-year-old from Middlebury, Connecticut. said last night that her rendition of 's "Baby What do you Want Me to Do?" was "loud" and "annoying".

April 14, 2010 09:20:29 GMT

In the next "", as a result of falsely accusing her faculty adviser of sexual harassment, Naomi is now required to complete community service and publicly apologizes to her peers for the trouble she has caused. Liam and his father, Finn (guest star Scott Patterson), reconnect and attempt to rebuild their relationship.

The gang is preparing for the SAT's when Silver disagrees with Teddy's decision to skip college to focus on his tennis career and things grow even more tense when she meets his movie star father, Spence (guest star ). Navid and Dixon host an underground gambling party that results in Dixon owing Mark (guest star Blake Hood) a lot of money.

April 14, 2010 08:25:48 GMT
Casting news comes from who is currently still paying duties as "" regular. THR reported that the actress is joining a new comedy pilot by ABC titled "Southern Discomfort". While many ask what it means for "OTH" which is yet to get a renewal from The CW, E! Online provides an answer which is not so bad to hear.

Bush may have signed up for "Discomfort" but the show is second in her priority. Should The CW order an eighth season of "OTH", then Bush will be back fully committed to the series that propelled her to fame. Furthermore, E!'s source said the chance of "OTH" being renewed is actually big and "better than 50/50."

April 14, 2010 06:19:52 GMT

Four women of "" are standing behind creator Marc Chery who is the subject of 's lawsuit. On Tuesday, April 13, , , and released a statement that gives contradiction to what Nicollette said.

"It would be irresponsible of us to let the public believe that being a part of this show from its inception has been anything but a blessing," they said in the collective statement. "We have no first-hand knowledge of what Nicolette may or may not have experienced, but we would never characterize our set as a hostile environment. It is, in fact, the opposite."

April 14, 2010 04:44:05 GMT

"" is officially dancing again on FOX and next week is the highly-anticipated -centric episode. Mr. Schuester is concerned that the girls in the glee club are being disrespected and bullied by the guys. Looking to Madonna and her musical message of equality as inspiration, he challenges the entire team to choose Madonna songs as their next assignment.

He hopes that the girls embrace her strength, independence and confidence and that the guys will see the error of their misogynistic ways. The glee club takes the assignment to heart as they perform some of Madonna's greatest hits, including "Express Yourself" and "Like a Prayer." Meanwhile, Kurt and Mercedes give Sue a vote of confidence with a makeover that is definitely in "Vogue."

April 14, 2010 04:07:37 GMT

"" apparently will stop having episodes that focus on one central character starting next week. The preview of "The Last Recruit" shows a mix of Locke, Jacob, Jack, Claire, Hurley and others with little information about the plot. But it looks like Sayid is having another confrontation with Desmond that involves a gun.

The title itself is most likely the reference of two sides organized by Smocke and Jacob. The official synopsis from ABC said, "Alliances are forged and broken as the Locke and Jack camps merge". The casting call for the episode might shed a bit about what will happen in the episode. The show was looking for an EMT and a surgeon. Both of these medical experts are skillful, compassionate and like helping people.

April 14, 2010 03:07:53 GMT

became the highlight of this week's "" for he was guiding the Top 9 contestants to master 's songs. During the performances, Adam sat in the audience's seat and did a brief interview with , saying if he had to pick an Elvis song then it would be "Can't Help Falling in Love".

Crystal Bowersox was first with "Saved" and an electric guitar. commented, "It could have been the second coming of or something." said it was "fantastic" while loved the tempo. concluded, "You didn't choose an obvious song, you put your own slant on it and didn't fall into the karaoke trap."

April 14, 2010 02:13:53 GMT

"" axed one more couple this week. Aiden Turner and his partner Edyta Sliwinska are going home after surviving two elimination rounds. "Each week I came out here and gave it my all. ...I've had a great time," Turner said with teary eyes and smile. "The experience of being on 'Dancing with the Stars' has been amazing. ...Now I feel like I can move like I never moved before."

Turner stumbled at Rumba during the week when judges gave two set of scores, one for technical and another for performance. Turner received 15 for the former and 18 for the latter, making it a total of 33 out of 60. His score was not the lowest for earned 32 out of 60. Nevertheless, it was Niecy Nash who joined Turner in the bottom two.

April 13, 2010 09:33:55 GMT

"" officially kicked off the fourth season on Sunday, April 11 and the preview for the next episode is available. In "Scars and Stripes" that airs April 18, the five best friends are back but so is their worst enemy, Lenore Baker (guest star Rhoda Griffis).

Meanwhile, Joan's healing takes longer than anticipated, leaving Roland feeling emotional about not being with her. Roxy is stressed about the financial burden that a new baby will have on the family, so Trevor offers to get a second job. With the help of Claudia Joy, Roxy is determined to get the ban lifted on the Hump Bar.

April 13, 2010 08:41:55 GMT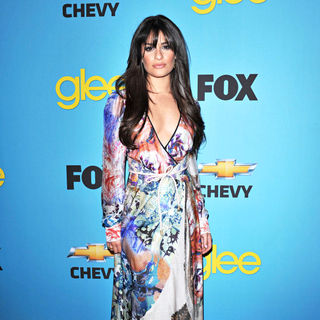 Everyone in the major cast line-up of "" turned up at the Spring Premiere event held at Los Angeles' Bar Marmont on Monday, April 12 night. Beside promoting the imminent return of the series on FOX, the event was held to give selected audience a first look at the new episode. The screening was held outside the venue.

Wearing a kimono wrap-dress style, let her hair down and added fringe as a fresh look. Co-star chose to be sexy with plunging V neckline and little accessory. , and opted black as the main theme of their outfits. Lynch who announced her engagement to girlfriend Lara Embry earlier this week, was seen with ring on her finger.

April 13, 2010 08:15:26 GMT

Wilson's past is unfolded a bit in the next episode of "". begins her guest starring appearances on the April 19 episode titled "Knight's Fall" as Wilson's first wife who is now divorced from him. According to the official synopsis, Wilson starts over with her.

Meanwhile, House and the team take on the case of Sir William, a "knight" in a closed-off community of men and women living according to the ideals of the High Renaissance. As the team searches the medieval village for environmental factors contributing to Sir William's rapidly deteriorating health, Thirteen and Sir William debate the acts that define honor and loyalty, especially in regard to the "queen" of the community, one of Sir William's most frequent visitors.

April 13, 2010 07:08:55 GMT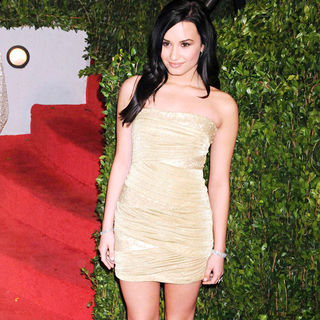 Filming her guest starring appearance late last month, can be seen for the first time on "" through a still obtained by TV Guide Magazine. Her role is a schizophrenic patient named Hayley who falls under the care of ' Alex and Jessica Capshaw's Arizona.

"The first two actors I met were Justin Chambers and Jessica Capshaw, and I was like, 'There's Karev and Arizona!' Then I met ," Lovato gushed. The Disney actress is seen in with scratches on her face. The episode will air on May 13.

April 13, 2010 04:38:07 GMT

As the clock counts down on the highly-anticipated return of "", FOX releases one more promo that reminds people why this return is worth the time. The five reasons are "", "Sue Sylvester", "Great Guest Stars", "Huge Musical Numbers" and "Crazy Plot Twist".

After a very long hiatus, "Glee" will be back on screen on Wednesday, April 13. The first back nine episode is titled "Hello". Fresh off their monumental win at Sectionals, New Directions is on top of the world. With an extra spring in their step, they get to work on new numbers for Regionals. But when Rachel and Finn's budding romance hits a bump in the road after she becomes involved with a competitor, Jesse St. James, it threatens to derail the entire club. Mr. Schuester pays a visit to Shelby Corcoran, coach of Vocal Adrenaline, to confirm Jesse's motives.

April 13, 2010 03:36:58 GMT

The latest "Waiting Sucks" promo of "" gives a tease on what will happen to Jason Stackhouse in the third season. After having trouble with women most of his time in season 1 and 2, the dimwitted brother of Sookie is again falling into the same pit with a new woman (or creature) named Crystal Norris.

This new teaser gives the first look of Lindsay Pulsipher who guest stars as "a mysterious and hauntingly beautiful young woman in sundress" aka Crystal. She has a passionate romp with Jason but becomes aware of the breaking sound in the woods and says, "This can't happen. It's too dangerous." Jason reacts, "Dangerous? Why?".