October 11, 2006 08:38:33 GMT
It's been three years that takes a break from music industry. And now the pop/R&B singer is back to the scene with her third solo album in hand.

The effort, simply titled "", will be released on January 16th next year on Virgin Records. The soulful, R&B-powered set is a follow up to Stacie's 2003 self-titled gold album, which spawned two Top 10 singles and was nominated for a Grammy Award.

October 11, 2006 08:18:22 GMT
Fans of soul diva could soon enjoy her previously unreleased version of "I Am Not My Hair" in a new Lifetime Television movie, "Why I Wore Lipstick to My Mastectomy."

The version, which is the original version of the song, actually is a duet between the R&B/soul singer and pop-rocking artist . It will be available on iTunes beginning Oct. 23.

October 11, 2006 05:25:45 GMT
They've been worked hard on their second album, a follow up to their breakthrough record "", and now as the set is almost finish talk its details.

The album, which has yet been titled, will reportedly feature "guitar solos" from Panic! At the Disco's Ryan Ross and 's Chad Gilbert. Additionally, the band also promises that the album would be heavy with guest stars, with a few hip hop artists will be making cameos.

October 11, 2006 04:41:42 GMT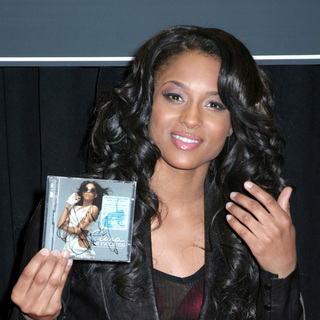 , the multi-platinum R&B/pop sensation, will have her sophomore effort "" hit the stores December 5, 2006. The album is the follow-up to her 2004 triple-platinum "" which spawned three #1 singles and earned the songbird four Grammy nominations among others.

As for the new set, Ciara recruited a handful of notable names, including Rodney Jerkins, , , and . Additionally, she also does a collaboration with fellow rapper for the set's song called "Dope Boys".

October 10, 2006 06:35:10 GMT
One of the world's biggest bands has parted ways with its long-time label Island Records and moved to Mercury Records, within the Universal Music Group stable. Report on that matter was first confirmed by a Universal spokeswoman on Monday Oct 9th.

Not without reason, but the Irish rock band made the decision because they want to maintain its relationship with music executive Jason Iley, who transferred from Island to Mercury last year. The split was said to be amicable somehow.

October 10, 2006 06:06:11 GMT
, the new band formed by Mark Hoppus and , released a statement Monday Oct 9th, announcing that the first leg of their fall tour will be rescheduled due to an arm injury suffered by drummer Barker.

Originally scheduled to hit the road October 13 at Soma in San Diego and included stops at this weekend's Bamboozle Left Festival, +44 will now kick-off on November 8th at Jannus Landing in Tampa, FL and end November 22nd at St. Andrews in Detroit, MI.

October 10, 2006 04:31:33 GMT
Feels the need to give himself more time to recover from his drug addiction treatment, has decided to cancel the rest of a British tour with his band . The band's record company, EMI, said Saturday Oct 7th that the British rockers had canceled a Friday's show in Liverpool and postponed upcoming gigs set for Glasgow, Nottingham, Manchester and Newcastle.

"It is now clear that Pete embarked on this arduous and high profile tour too soon after his discharge," the label spokesman said in a statement. "The band apologizes to fans but hopes that they will understand the importance of Pete being able to best continue his good progress in recovering from addiction. The dates will be rearranged for as soon as possible and all tickets will remain valid."

October 09, 2006 03:38:10 GMT
Being famous has its ups and downs which for never comes easy somehow. The pop singer reportedly considers quitting music.

Not without reason, but JT has had enough from the industry. He said, "I've had bottles of pee thrown at me, and had girls try to tear my clothes off. I don't want to be jumping around on stage 10 years from now."

October 07, 2006 02:13:46 GMT
Get ready for another 's music effort. The rapper will have his next album, titled "", hit the stores on October 17th later this year.

What make the set special is that it carries in it a song which the entertainment mogul "borrowed" from , the girl group he created through the MTV runaway hit show "Making The Band". The track, dubbed "Tell Me", reportedly also features the amazing vocals of .

October 05, 2006 05:03:18 GMT
This time around has to nod his head to fellow musician, , whose latest effort "" ends his two-week reign at the top of the US album charts. The rapper's set, which is his fifth, is a new entry at the charts, sold 309,000 copies for the week ended Sunday October 1st. With such attainment, "Release Therapy" obviously leads Luda to score his third No. 1 album, after that of his 2003 "" and 2004 "".

's "", which is also another new entry, debuts at No. 2 with 296,000 copies, followed after that by 's "" at No. 3 sold 202,000 copies, and 's "" opens at No.4, taking in 149,000 units. Former chart-topper Justin's "", in the meantime, falls to No. 5 sold another 147,000 copies.

October 04, 2006 05:09:20 GMT
Irish rock band would never stop creating music work. Fresh from their collaboration with on a cover version of The Skids' "The Saints Are Coming", they will in the near future release a definitive greatest hits compilation.

It has just been confirmed by the band itself that they will release "" by November 17th. The set, according to the band's Web site (http://www.u2.com), will feature U2's Hurricane Katrina charity collaboration with Green Day, "The Saints Are Coming," as well as a brand new song, plus "16 of the band's best-known songs".

October 04, 2006 04:27:42 GMT
Prior to the release of their new album, "" which is due to hit stores on Halloween 2006, Sacramento rockers will embark on a 22-date U.S. tour, kicked off on October 26th in Oklahoma City.

The jaunt, held to support the band's new effort, will see a performance from rock band Deadsy who's been booked as the trek's opener.

October 04, 2006 03:48:18 GMT
Two-time Academy Award-winning singer returns to the stage on Wednesday, launching her first proper concert tour in over a decade, and the biggest of her career. This is the first time ever the songbird going back on the road after declaring she was giving up live performances six years ago.

Speaking on her comeback to music scene, Streisand said it is her desire to raise money for her favorite charities that encourages her to embark on the tour. "That's the main reason I'm going back on the road now," she told 's O magazine. And hence the money will be distributed through her own philanthropic foundation.

October 04, 2006 02:45:00 GMT
is back and about to give fans their newest music album. The new effort, titled "", was created from a past suggestion by the late and Cirque du Soleil founder Guy Laliberté.

Producer Sir George Martin and his son, Giles Martin were the two persons working on the set after getting permission from , , 's widow , and George Harrison's widow Olivia Harrison.

October 03, 2006 07:54:04 GMT
is about to release an acoustic live album and DVD next month. The set, tentatively titled "", will feature 15 live and acoustic tracks recorded in Los Angeles.

"Skin and Bones", due to hit stores on November 7th, was recorded at three August Los Angeles dates on the band's acoustic tour. It includes the songs, "In Your Honor," "Big Me," "Everlong," "My Hero" and "Walking After You."