April 30, 2007 02:08:57 GMT
Amid her hectic filming schedules, has a new mission to complete, delivering life-changing loans to women in the developing world.

Concerning her new task, the movie beauty is working with Foundation for International Community Assistance (FINCA), an organization that provides small loans to people in developing countries. As part of the project, she will launch a new micro-financing initiative called the Village Banking Campaign, which purpose is to launch 100,000 new community banks.

April 28, 2007 06:40:45 GMT
Having her driving license suspended, will keep driving anyway. The rich entertainer who's never shy of public attention is joining the Bullrun race.

It is, as the organizers say, a great race of partying, driving and enjoying during which celebrities rush in cars for a week and party in a different city each night.

April 28, 2007 05:06:57 GMT
The long and tiring search finally is paid off when the Beckhams found their nest in the ritzy Los Angeles suburb.

People Magazine reported Friday April 27th that and husband have found the dream house of their family with the Posh Spice is scheduled to fly in to Los Angeles Saturday April 28th to finalize a deal on the multi-million-dollar mansion located in Beverly Hills.

April 28, 2007 04:40:12 GMT
changes his mind when he finds it "too boring" to write his autobiography that at the end decided to abandon the project.

' frontman revealed that he initially agreed to tell all about his rock n' roll lifestyle for the money. "I was offered a large sum of money, which I found tempting and I started writing," the rocker said.

April 28, 2007 03:41:45 GMT
Her antics has sent her to encounter many problems, and now we hope you would learn one or two thing form the socialite. Capla Kesting Fine Art is using 's drunk driving as a Public Service Announcement (PSA) aimed at teenagers to encourage them not to drink and drive.

"Campaign to Rescue Women of Youth" featuring "The Paris Hilton Autopsy" offers a nude corpse of the hotel heiress, laid out with twisted body and opened abdominal cavity on a coroner's table, while her cell phone remains in her grip. The display, which also features pet Chihuahua with matching tiara, debuts in the trendy Williamsburg, Brooklyn neighborhood where prom-goers frequently dine, courtesy of Capla Kesting Fine Art.

April 28, 2007 02:55:31 GMT
Being famous doesn't always feel good for at one point it may endanger your life and the people close to you. encountered such an unfortunate Sunday April 22nd when an obsessive fan of her tried to run over her husband in a confrontation outside their beachside home.

The Hollywood lovely and husband Jesse G. James were with James' 10-year-old son Jesse Jr when Marcia Valentine laid down in their driveway near Los Angeles. The motorcycle builder then asked her to leave but she ignored him before getting into her silver Mercedes and repeatedly trying to mow him down, sent the mom and son to shock.

April 28, 2007 02:25:46 GMT
Making his way back to Broadway, is set to once again reprise his role as Gaston in the final performance of stage production of Disney Theatrical's "Beauty and the Beast" at the Lunt-Fontanne Theatre on July 29, his spokesperson has confirmed.

Previously showed up on Broadway in "Little Johnny Jones" and toured for several years in, the multi-talented artist has enjoyed a successful three-month run playing the villainous character before leaving the show on Christmas Eve. With his return, he thereby will join the current cast of the musical that includes Anneliese van der Pol, Steve Blanchard and John Tartaglia, among others.

April 28, 2007 02:07:54 GMT
At least he still makes the list, though not in the No. 1 position. 's wealth is decreasing as time goes by that he is only ranked 3rd in an annual list of Britain's Richest Musical Figures released Friday April 27th by the Sunday Times. The list said the former Beatle's wealth reaches an estimated £725 million, which is down £100 million from last year.

The decrease is presumably due to his costly divorce with estranged wife , the paper said. Top the annual rich list is the former record label boss Clive Calder, who is considered as the country's only music billionaire with a fortune estimated at £1.3 billion. Theater composer Andrew Lloyd Webber who is worth at £740 million is moving up to 2nd place from 3rd in 2006.

April 27, 2007 08:43:54 GMT
scores another honor, not for his acting career, but for his being deeply involved in the Swedish School of Los Angeles. The comedian-actor and his wife Viveca Paulin have been bestowed "The 2007 Viking Prize."

The husband-and-wife are scheduled to accept the award from Margareta Saperston, headmaster of the school, at a ceremony on May 19th later this year.

April 27, 2007 07:27:33 GMT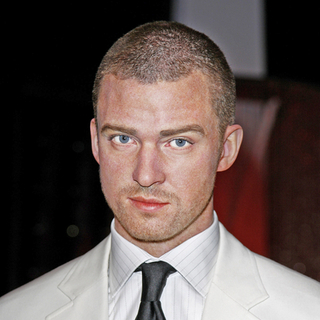 He's sexy in real life, and still so in wax. brings the sexy wax of his figure to Madame Tussauds in London.

The pop singer is having his wax figure unveiled this week near a waxwork model of his ex-girlfriend .

April 27, 2007 06:39:28 GMT
The Entertainment Industries Council, Inc. (EIC) has on Tuesday April 24th annually presented the PRISM Awards, which is in its 11th year. Among the many awards given, here we present the winners of the television categories.

ABC's hit series "Desperate Housewives" wins the Comedy Series, Multi-Episode Storyline award, while Fox's "Family Guy: Deep Throats" nabs the award for Comedy Series Episode category. of the "Ugly Betty" earns the Performance in a Comedy Series award, whereas brings home the Performance in a Drama Series Episode award thanks to her performance in NBC's "Law & Order: Special Victims Unit."

April 27, 2007 05:54:03 GMT
Hollywood's most kept secret is no longer an unconfirmed speculation when comes out with revelation that she is, in fact, a bisexual.

The former "Lost" actress comes out of the closet in this months issue of Curve magazine, revealing among other things her relationship with fellow actress , who hinted in an issue of The Advocate last year they were a couple and very much in love.

April 27, 2007 04:48:46 GMT
Hollywood babe is getting busier with two more jobs to complete. She's been booked to do some photo shoots for charity, and is slated to be the guest star in Hans Klok's new Vegas magic show.

The busty blonde slips back into her Baywatch costume, revisiting the hit TV series scene for a special photo shoot for charity. In other news, she is also scheduled to be the guest star in Hans Klok's "The Beauty of Magic" show, replacing fellow sexy beauty who's pulled out for scheduling reasons.

April 27, 2007 04:26:42 GMT
No doubt more than ready to display her unique brand of provocative comedy, has delightfully signed on to host this year's MTV Movie Awards set to be held on Sunday, June 3 live from the Gibson Theater in Universal City, California, MTV officially announced yesterday, April 26.

"Sarah's irreverent, no holds barred sarcasm and humor have made her one of the hottest up and coming comedians in the industry," the network's president Christina Norman commented. "Sarah is just the person to orchestrate the madness and keep everyone guessing about who'll be her next target."

April 27, 2007 04:18:12 GMT
is added into the long list of celebrities dealing with legal law over DUI. The rapper-actress was arrested early Thursday April 26th on suspicion of DUI after she crashed her Maserati into a divider on Hollywood Boulevard.

According to AP reports, the car crash took place at about 2:45 a.m. on Hollywood Boulevard. Apparently, the 28-year-old rapper lost control of her golden ride and crashed into the concrete median at the Sycamore intersection, police officer Martha Garcia explained.