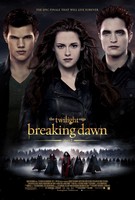 Overview
---
Genre :
Romance, Thriller, Drama
Release Date :
November 15, 2012
MPAA Rating :
PG-13
Director :
Bill Condon
Starring :
Robert Pattinson
,
Kristen Stewart
,
Taylor Lautner
,
Ashley Greene
,
Peter Facinelli
,
Kellan Lutz
,
Nikki Reed
,
Jackson Rathbone
,
Elizabeth Reaser
,
Dakota Fanning
,
Anna Kendrick
,
Michael Sheen
,
Billy Burke
,
Jamie Campbell Bower
,
Mackenzie Foy
, Booboo Ste

REVIEWS RATE: Critics Readers [Rate It]
Reader's Reviews
---

I LOVE EDWARD AND BELLA
posted by

twilight

on Jan 08, 2014 09:25:58

amazing
posted by

ALL

on Dec 24, 2013 01:47:27

This is my best movie in the world
posted by

Anas rathbone

on Dec 16, 2013 10:33:32

nice film
posted by

beti

on Jan 26, 2013 02:54:45

The Twilight Saga's Breaking Dawn Part II .. it's very amazing .. i very love this film .. and i wait for the next TWILIGHT :):)
posted by

mutiara shin taemin

on Dec 26, 2012 02:18:23

awsom movie dude :)
posted by

siwani

on Nov 26, 2012 01:24:03

MAGNIFICENT
posted by

ANN

on Nov 23, 2012 03:16:40
Really Damn Love of Twilight Saga! Makes me miss 'em so much! especially to the romantic Edward Cullen (sorry not Robert Pattinson),,hehehe,,
posted by

Mizz Rog

on Oct 15, 2012 12:40:23
I really love al the twilight movies i talk about them everytime i hope they will write about Jacob and Renesmee .
posted by

Boipelo

on Jul 19, 2012 05:48:33
I can't wait for 11-16-12. I loved the first breaking dawn and I no I will love the second one too. I also can't wait to see Mackenzie foy, she is sooo cute
posted by

Twilight<3er

on Jun 13, 2012 10:13:04
i can't wait for the next chapter!!!i don't know if could be more excited,coz' bella is now a vampire like edward,and they have now their daughter,renesmee...or in the other hand it is now the last chapter,we will be so very lonesome!!!i hope stephenie meyer,would write the next story,like the story of jacob and renesmee!!!!
posted by

kriscille jayne

on Apr 26, 2012 09:16:18
kirsten did not do bella just in the twilight movies.
posted by

isabella swan/cullen

on Jun 06, 2011 06:14:45
Trust me the Twillight Saga Series have here in Jamaica hooked..... I really cant wait to see what's next with Edward Cullen
posted by

TAJ

on Apr 08, 2011 03:44:01
i love jackson rathborne so much i named my kid after him!!TEAM JASPER
posted by

denise

on Feb 26, 2011 12:09:59
!! ilove jacob mixing up w/ bella
posted by

nikayra

on Jan 23, 2011 12:05:33
ROB IS ONE OF MY BEST ACTORS AND BREAKING DAWN WILL BE A HIT.
posted by

HS

on Jan 06, 2011 11:07:21
Robert is really funny and fun to play Alice!!
posted by

Ashley

on Jan 03, 2011 11:36:17
Go team cullens!!!!!!!!!!:)
posted by

becca

on Jan 03, 2011 11:31:13
Breaking Dawn is going to be the best worldwide henomenon!!!
posted by

becca

on Jan 03, 2011 11:26:30
why do the have to make braking dawn part2 come out in november 16 2012 y cant they have it like june or july something 2012 any way cant wait till the moviecomes out love the movies and books:)
posted by

Kimmy

on Jan 01, 2011 07:19:16
Bár tudnék annyira angolul, hogy ezt elolvashassam:)!!De béna 12 éves vagyok és nem tudom!!
posted by

Soffye

on Dec 30, 2010 07:05:22
i really love twilight movies
posted by

natasha

on Oct 20, 2010 04:59:07
i love twilight books
posted by

natasha

on Oct 20, 2010 04:56:29
the twilight books are good
posted by

natasha

on Oct 20, 2010 04:55:42
Go team Alec!!!!!!
posted by

Mrs.bright

on Oct 17, 2010 07:44:51
I CANT WAIT TO SEE HOW GREAT CAMERON DOES IN THIS MOVIE HE IS GOING TO BE SO GOOD
posted by

Mrs.bright

on Aug 08, 2010 07:59:23
i love thetwilight saga books but breaking dawn isn't my favorite book unlike eclipse breaking dawn is stilll action pack it is going to be a great movie just like eclipse was.
posted by

vivian

on Aug 05, 2010 08:19:47
robert pattinson is very cool and i love his films and i've heard his muisc very cool
posted by

Tammy

on Jun 27, 2010 06:17:33
i really love his movies
posted by

chris

on Jun 25, 2010 08:08:17