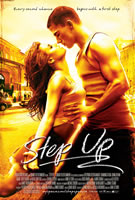 Overview
---
Genre :
Drama, Romance, Music
Release Date :
August 11, 2006
MPAA Rating :
PG-13
Director :
Anne Fletcher
Starring :
Channing Tatum
,
Jenna Dewan
,
Mario
, Drew Sidora,
Rachel Griffiths
,
Alyson Stoner
,
Josh Henderson
, Heavy D, Deirdre Lovejoy, Linda E. Williams

REVIEWS RATE: Critics Readers [Rate It]
Reader's Reviews
---

tooooo cute couple in this movie
posted by

hilary duff

on Sep 17, 2009 07:26:51

exellent
posted by

lasica

on Aug 16, 2009 08:21:24

WdgNdj
posted by

Opdtcggr

on Jul 14, 2009 01:41:08

I absolutely love this movie! It has totally killer dancing and the story is fantabulise!
posted by

awesomest person

on Feb 28, 2009 08:10:15

i loved this movie!!!! it was entertaining and the dance and music was excellent and i enjoyed every second of it!! i think channing and jenna did a gr8 job dancing and acting and it really wasnt like any other movie!!! it was different in lots of ways!!! the music was so good that i wanted to get up and start dancing and my friends loved it too!!! i even bough it on dvd n id watch it over and over again!!
posted by on Mar 16, 2007 00:00:00
I'm submitting this now because I got it on DVD and it was the greatest movie of all time!!!
posted by on Jan 31, 2007 00:00:00

Step up would have to be the best movie i have ever seen. There is great talent in the movie and channing tatum is so hot
posted by on Jan 05, 2007 00:00:00

my friend and i went to see this and we both absolutely loved it...its a step out of reality its AWESOME!!! and it isn't like something done before like everyone says it is, It is soo much better!
posted by on Dec 21, 2006 00:00:00

This is the best movie i've seen so far.. its got the right style and everything, the acters are very good ! and after all the movie has got a lesson that we all need to know in our life !! I LOVED IT ALOT ! :D
posted by on Dec 08, 2006 00:00:00

It's like some fairy-tale 4 sure, but i loved that cuz such movies let's u slip away from reality and dive into something pink and soft... ;)
posted by on Nov 21, 2006 00:00:00

Sure this movie seems like it's been done before, but it doesn't matter because I think that if it can make you cry, laugh and make you want to see it again, the creators have done their job. It may seem like it's nothing new, but I loved every second of this movie. From the very beginning, with the funky good beat music I was drawn in and wanted to dance. When Tyler and Nora kissed at last, I cheered. When Skinny died, I cried. And at the end, my feet wouldn't stop bouncing with beat of the finale. I loved this movie and I'd watch it again and again!!
posted by on Oct 05, 2006 00:00:00

That movie was the best I've seen in along time. It was so good.I hope you all put it out on DVD.If you dont it will bea waste.It was so good im going to go see it again!
posted by on Aug 12, 2006 00:00:00