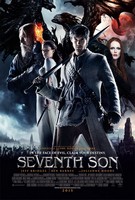 REVIEWS RATE: Critics Readers [Rate It]
Reader's Reviews
---
Cm on! auditions were said not to be hald until october 2011! They also wanted young kids with NO movie experience!!! You will definitly see me at the movie....shouting STUPID, LIES, JERKS!!!!!!!
posted by

lalalalawawawawa

on Jun 28, 2011 10:09:21
This could possibly be a proper movie because lots and lots of websites say stuff about it and Joseph Delaney's blog says he is making a movie. But Zac Efron is definately not starring in the movie. And anyways if he was i would not repeat not watch the movie.
posted by

Girl

on Feb 23, 2011 04:02:45
Haha This is fake no movie is even TALKED about to come out for the last apprentice and probable wont until after book 8
posted by

blake

on Jan 27, 2011 06:45:34
does any one now if it is out yet and if so where can i buy it
posted by

nome

on Dec 25, 2010 08:53:30
zac efron CAN NOT BEIN THIS MOVIE iv met joseph delaney and won a sined book from him
posted by

hi

on Sep 23, 2010 03:30:43
The discription is all wrong, he learns to face creachers of the dark like witches and things.
posted by

HI

on Jun 03, 2010 07:59:57
Ok guys number why the fuck hasn't this movie come out yet. number 2 the books are immrence. and n3 why the bloody hell is there lag on dis movie cause its like wtf
posted by

TheOneAndOnly

on Feb 04, 2010 03:33:14

ok...that's absolutley wrong....but anyway i can;t wait to see the movie
posted by

alexandrulazar12

on Dec 05, 2009 10:44:21

OMG Joseph Delany came to my school, Newlands int
posted by

Annonymous

on Aug 12, 2009 02:22:41
there is a difference
posted by

me

on Jul 01, 2009 09:36:46

the book waz great but HE DOSEN'T LEARN WIZARDY, he learns 2 fight the dark
posted by

me

on Jul 01, 2009 09:35:58
FUCK OFF UGLEY WANKERS!!!!! tee he he
posted by

Kit Bruce

on Jun 28, 2009 02:34:41

the discription is totally wrong he doesm't learn wizardry he learns how to battle the DARK
posted by

????????????????????

on Jun 28, 2009 02:33:38
If you're going to post a shoddy movie review can it atleast be accurate?
posted by

J

on Jun 16, 2009 06:00:05
That story description is completely wrong.
posted by

Jade

on Feb 16, 2009 10:16:46