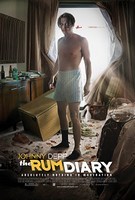 REVIEWS RATE: Critics Readers [Rate It]
Reader's Reviews
---

I am Hunter Thompson,but with the hair and I love Jonny Depp since I met him in Vancouver on the set of 21 JUMP STREET. Go on,love You jonny handsome!
posted by

the RUM DIARIES

on Nov 27, 2011 12:30:41

Very enjoyable movie
posted by

Rum Diary

on Nov 02, 2011 11:11:37
The first half of the movie is extremely slow and boring. The second half if very funny and enjoyable. Unless they clean up the first half, I wouldn't recommend it.
posted by

Starr

on Apr 24, 2010 09:10:32
I am in the movie as an extra actor in the cockfigth excene !
posted by

Luis Rosado

on Apr 16, 2010 02:19:40
i deeply love u johnny.God Bless
posted by

johnny

on Feb 21, 2010 02:07:10
I am looking forward to this. I love that book, I don't care what anybody says. Also, I saw pictures of Depp on the set and his hair is just the way I like it.
posted by

Sarah

on Dec 24, 2009 02:53:01

i love HST
posted by

adam

on Oct 20, 2009 04:45:44

UjLro1
posted by

Safezljl

on Jul 14, 2009 04:06:36
i love johnny depp
posted by

thntpotc@live.com

on Jun 13, 2009 12:12:40