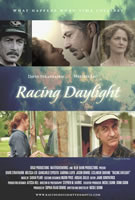 Overview
---
Genre
Drama, Mystery
Release Date
July 31, 2007
Studio
Watershed Works
Official Site
click here

Cast and Crew
---
Director
Nicole Quinn
Producer
Sophia Raab
Screenwriter
Nicole Quinn
Starring
David Strathairn as Henry Becker/Harry Stokes
Melissa Leo as Sadie Stokes/Anna Stokes
Giancarlo Esposito
Sabrina Lloyd
Jason Downs
Leclanche Durand
Denny Dillon
Story
---
Racing Daylight is a ghost story, a murder mystery and a love story which crosses time. What happens when time collides? Sadie thinks she's going insane. Edmund's sure he's being haunted. And Henry, well Henry's racing daylight.
Told as three short movies Racing Daylight is the story of Sadie Stokes (Melissa Leo) who's returned to the family farm to care for her catatonic Grandma (Leclanche Durand). There have always been Stokes in Cedarsville. Sadie and Grandma are the last. Sadie's life has been pretty colorless until the man appears in the mirror calls her "Anna!" and then fades away. As Sadie takes on the characteristics of her ancestor, Anna Stokes, she realizes that they both want the same thing, they both want Henry (David Strathairn) the farm's idiosyncratic handyman/civil war junkie. Only Anna thinks Henry is her long lost Harry (David Strathairn).
This magical love story of hope and forgiveness is set against the backdrop of the Hudson River Valley, with light that glows from the inside out, and specifically the Shawangunk Ridge; home to Revolutionary war battles, the Underground Railroad, Native Americans and Dutch settlers.