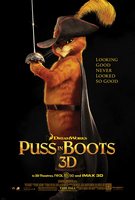 REVIEWS RATE: Critics Readers [Rate It]
Reader's Reviews
---

THIS IS COOL
posted by

WINDOWS 7

on Apr 29, 2012 11:19:51

AMAIZING WALLPAPER
posted by

atiyaksh

on Mar 22, 2012 12:58:37

dwayne bonello i love the ist half of the movie 2nd half okay when the 3rd half boring and thats why i will give 3stars of this animated movie by dreamworks!
posted by

dwayne bonello

on Jan 12, 2012 03:15:57

Very cute :)
posted by

Catty

on Nov 30, 2011 12:16:15
I love it Puss in boots in its own movie before it meets Shrek but the top picture its not Puss, the picture of Puss with Kitty the black and white cat thats about the movie
posted by

Spyro

on Sep 13, 2010 03:04:08
Awesome! I luv Puss!
posted by

Angel7170

on Aug 22, 2010 08:17:39

holly CRAP!!! PUSS in BOOTS!!!
posted by

STARWARS11

on Sep 05, 2009 04:17:17

6POze8
posted by

Scdfrknr

on Jul 13, 2009 10:49:58

Shrek, ast, Shrek This has potential to be funny ^_^
posted by

*rolls eyes*

on Jul 12, 2009 11:29:04

Puss in Boots was in shrak
posted by

ast

on Jan 31, 2009 12:09:33