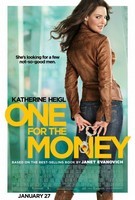 Overview
---
Genre :
Romance, Comedy
Release Date :
January 27, 2012
MPAA Rating :
PG-13
Director :
Julie Anne Robinson
Starring :
Katherine Heigl
,
John Leguizamo
,
Daniel Sunjata
,
Sherri Shepherd
,
Jason O'Mara
, Patrick Fischler, Leonardo Nam, Jack Erdie, Nate Mooney

REVIEWS RATE: Critics Readers [Rate It]
Reader's Reviews
---

Read all the books. And saw the movie. Visioned Grandma Mazur to look more like Estelle Getty(Sophia) from the Golden Girls. Katherine fit Stephanie description according to the book but not anyone else. Would still like to see more movies from the series.
posted by

MoRange

on Jan 29, 2012 12:26:04

I read all the books. Saw the movie today and liked it. Katherine is good choice for Stephanie, but most of the cast did not fit the description of what I expected from the books.
posted by

plumfan

on Jan 28, 2012 10:49:55

Having read all 18 books, I loved it and hope there are 17 more movies. Characters fit my perception and the humor made it a delightful escape.
posted by

pianomandc

on Jan 27, 2012 08:28:44
cast is all wrong! It will be screwed up just like they screwed up James Patterson's made for tv show by using Angie Harmon in the lead roll. Sorry Janet they should of listened to us or maybe just read the books then the cassting would of been better.
posted by

mo-rangfan

on Aug 21, 2011 05:23:09
No offense to O'Mara and Sunjata, two very good actors, however, neither of them look like the characters that Evanovich described in her 17 books. Heigl does look like Plum and was a good match.
posted by

OneTwistedSister

on Aug 05, 2011 09:46:53
So happy to see this movie being made. I love these characters in print it will be fun to see them on the big screen.
posted by

RockMom

on May 29, 2011 07:53:27
Morelli should have been Gerard Butler, and Ranger definitely "the Rock" Dwayne Johnson!
posted by

l.ganchuk

on Mar 10, 2011 08:10:44
I love the books, they are so entertaining. The cast for me leaves a lot to be desired. I hope I am wrong and the movie is as great as the book.
posted by

daro

on Mar 04, 2011 06:50:57
I like Katherine Heigl just fine as an actress. She can play some roles just fine. But I don't have any faith that she can pull of this role. She was chosen for her beauty and popularity, not her acting chops. I'm afraid that after loving the book series, she is going to ruin this movie for me. Bad call from the casting director. Truly bad call. They should test it on a sample audience before releasing it. I think that would prove they need a new casting director and new leading lady.
posted by

blondie26

on Feb 27, 2011 06:17:04
I've read all the books in this series. Joe, Ranger, Benitez, and Connie need to be cast again.
posted by

tani704

on Feb 16, 2011 11:19:18
I'v read some of the books and I LOVE them.I think they picked the right cast members,I like Kathrine, Daniel and Jasons acting I think their perfect for this movie. People need to stop judging!! and give them a chance!!!
posted by

kate2012

on Jan 31, 2011 12:49:43
Hello in the book Ranger grabs a guy and throws him out the window and I just can't see Daniel Sunjata doing that he is just all wrong. Daniel has some big shoes to fill with Ranger!
posted by

browning2007

on Jan 19, 2011 01:47:07
I can't wait yeah the cast may be a bit off. I think Katherine will do great I'm a fan of hers. How do I think is a bad choice? Ranger and Morilli. They should both be big and dreamy. While both guys cast are handsome they are not big,ripped,and dreamy. I have always wondered who would play these two! I just think they should reread the description of both these men and give us women somthing to get all hot and bothered about!!
posted by

browning2007

on Jan 19, 2011 01:43:18
the casting is awful katherine heigl as stephanie? what were they thinking? i hate the guy playing ranger
posted by

puppyluv104

on Dec 20, 2010 04:04:45
Love the books, hopefully the actors can pull off the characters. I enjoy watching Katherine Heigl, Jason O'Mara and Daniel Sunjata, but only time will tell if they will be right for the characters in the books. I am looking forward to the movie!
posted by

spartan70

on Nov 11, 2010 09:50:58
What terrible casting. Katherine Heigl as Stephanie is all wrong she only ever does B grade romantic comedies, such great books deserve much better. Im a huge fan of the books but wont go to see this movie.
posted by

Ang84

on Nov 08, 2010 04:30:20
After reading the books the cast is wrong! I love the characters however I will probably not watch the movie because the only person the casting got right was Lula! Love Katherine Heigel but as Stephanie Plum? Who made that decision? Joe Morelli is all wrong too. Terrible.
posted by

Notimpressed

on Nov 06, 2010 05:48:14
Love the book and the series. Always thought they should do a movie. Can't wait 'til July 2011!!!
posted by

Margomonster68

on Oct 09, 2010 09:46:04
to all the naysayers who putting the movie down even before it is released. I just have 3 little words to for you... GET A GRIP!!!! Come on people. Give it a chance. These may not be 20 million dollars a role actors and actresses, but they are great at their jobs. I,myself, can't wait to see the movie and I would think that TRUE FANS of the books would at least give a chance.
posted by

tee

on Sep 04, 2010 07:54:18
i read the book and ive seen the actors the book was hilaraus the movie looks amazing!
posted by

kate101

on Aug 08, 2010 03:42:46
I think the movie casting people are a bunch of pigs and & I think that this movie will really be a horrible the only reason I say that is because the have a female playing for every role class except for a fire fighter get with the times females are fire fighters now so my advice to the movie people would be quite being sexiest pigs and get with the times the only reason I know this info is because they filmed in my town and I seen the cast.
posted by

Grove

on Jul 23, 2010 09:58:16
straight to DVD! I won't pay to see this cast at the theater. They are all wrong! did anyone in casting read any of the books? For years fans of Stephanie Plum have played the "cast the movie" game and none of these people came up in the conversation. I can't see them doing justice to the books. Sad and WRONG WRONG WRONG cast. :((((
posted by

cones

on Jul 19, 2010 05:31:36