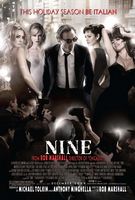 REVIEWS RATE: Critics Readers [Rate It]
Reader's Reviews
---
grazie per aver farmi sapere la canzone di roberto murolo, mi piace troppo! GRAZIE :))
posted by

nine

on Jan 21, 2011 11:46:06

like marco :) Did somebody find out the name of the song when Guido drove in his car to the spa?
posted by

prono

on Oct 04, 2010 01:31:06

vry good movie from the beginning but becomes dreary after nicole kidman's number
posted by

rick g

on May 15, 2010 01:05:30

roberto murolo - casa sulitaria
posted by

name of song

on May 11, 2010 12:50:16
the italian pop song is called: adriano celentano - 24,000 baci
posted by

song

on May 03, 2010 02:42:22

Did somebody find out the name of the song when Guido drove in his car to the spa?
posted by

Marco

on Apr 15, 2010 07:08:43

wats e name of the OST?? e one which ends,hope to see u cry again..
posted by

a.k.23BAR

on Mar 22, 2010 05:04:30

please i would like to know the name of the italian old song at the end .. it's such a beautiful song !
posted by

nisrine

on Mar 12, 2010 05:30:23

Fabulous movie-Deserves Oscars.
posted by

Brian M

on Feb 24, 2010 07:45:55

what is the name of italian song you play when Guido goes in his car with his mother explaining his inability of thinking, writing and so on... i am in love with that song.
posted by

what is the name of

on Feb 18, 2010 03:20:09

Don't miss it.. Anybody knows how is called the old italian song at the end of the movie?before the end.. Qualcuno saprebbe dirmi il titolo della vecchia canzone napoletana alla fine del film? grazie mille thank you very much
posted by

Jo

on Feb 16, 2010 08:22:49

Exelent
posted by

viviana

on Feb 09, 2010 09:01:43

Great cast, very poor movie.Where were the production numbers, only 2 seen. Watch"CHICAGO" for proper foremat.
posted by

NINE

on Feb 07, 2010 09:54:28

so you little italian, you want to know about love? Saraghina will tell you, if you want to make a woman happy, you rely on what you are born with,'cuz it is in your blood!!! HA!!!
posted by

Ferguson

on Jan 16, 2010 12:35:02

Fergie should be on broadway, her voice is amazing! Although the entire cast was great! Daniel Day Lewis should get an oscar for this performance!
posted by

AG

on Jan 13, 2010 10:06:14

Fergie from Black Eyed Peas sang Be Italian.. You will probably just find the song on the sound track. But she has a voice for broadway
posted by

rs

on Dec 29, 2009 09:00:36

the music adaptation was better than the origin broadway album. The cast was superb. I will purchase the sound track.
posted by

rs

on Dec 29, 2009 08:48:52

perfecto!
posted by

funsizeditalian

on Dec 27, 2009 10:52:09
Who sings the song "Be Italian" I have to have it!
posted by

lulu

on Dec 07, 2009 02:05:51

Lewisa continues to waste his time and ours on routine Hollywood vehicles. -Hey Daniel! -Catch this! Hollywood is now almost entirely underwritten by junk-credit from some of the most awesome genocidal monsters in human history across the Pacific. -You know -70 million 'peacetime' murders in the name of 'social progress' ---and now America's -and your creditors! ---CHEERS!
posted by

nano X

on Nov 20, 2009 11:26:22
What song is Kate Hudson singing? I love it!!
posted by

ANRY17

on Nov 19, 2009 08:51:45

the song in the trailer is welcome home by coheed and cambria. [i am a coheed fanatic]
posted by

Newo_2113

on Sep 08, 2009 06:29:50
does anyone know if there is a soundtrack out yet? Usually the soundtracks come out before the film...
posted by

PAN33

on Aug 27, 2009 11:00:56
The Song is called "Be Italian".
posted by

moviegoer

on Jun 23, 2009 06:20:33
hey any one know the name of the song in the trailer
posted by

theantcard

on May 10, 2009 01:04:30