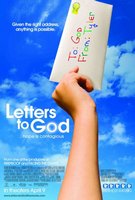 Overview
---
Genre :
Drama
Release Date :
April 09, 2010
MPAA Rating :
PG
Director :
David Nixon
Starring :
Tanner Maguire, Jeffrey Johnson, Robyn Lively, Maree Cheatham, Michael Bolten,
Bailee Madison
, Ralph Waite

REVIEWS RATE: Critics Readers [Rate It]
Reader's Reviews
---

The best movie! My dad recently died of cancer and he had a great attitude even during his worst days.
posted by

Cristy

on Jun 10, 2013 07:08:54

i love the Movie too
posted by

letters to god

on Feb 08, 2011 09:22:01

i totally love this movie and i had a chance to have more faith than before.
posted by

tonyryu

on Feb 06, 2011 08:46:42

im 15, This Movie Ev3n Beats Saw! i cried mad nough. Im ganna Tell My Aunty About it. The Best PArt is that i randomly choosed it on netflix.! (PS3)
posted by

shyandrew

on Jan 08, 2011 02:44:41

Felling of love
posted by

AKHIL

on Dec 27, 2010 08:49:08
Felling of love
posted by

C

on Dec 27, 2010 08:46:13

'when i watched this movie it changed my life and thought toward God,i kept on crying for hours....thanks to the producer....
posted by

nmazy \'ruun clyde

on Dec 13, 2010 10:29:53

Where can I buy the soundtrack? And does anyone know the lyrics to Ben's song on the movie? That song made me bawl like a baby.
posted by

unknown

on Oct 24, 2010 10:53:51

hi, i´m from Guatemala and i think the movie is great, but i want to buy some in spanish, for show the great God we have, and that inspires us to be better people.
posted by

Mario

on Oct 24, 2010 07:39:36

this movie have given me so much hope and faith in myself and in what i believe in and that is God. it kind of reminds me of my first love for the truth....my love in finding the truth...excellent movie...they should make more movie like this
posted by

letter to god

on Sep 24, 2010 06:24:02

in a few days its been three years since my grandpa died of cancer this movie sent me a message that everything is always gonna be ok nd that he is in a much better place. i love the movie, i did cry watching it tho... it really makes you think. im happy that i watched it. its a great movie, nd its finally a movie wit real feeling nd emotion.
posted by

steph

on Sep 15, 2010 12:23:47

Love the movie..It has deep message in it. For those who seek and thirst for GOD, this movie is for you. It touched my heart and is very inspirational to everybody's life. Simple yet it rocks! Like GOD always waiting for us, to go back to HIM. All we need to do is Pray and write HIM a letter, in GOD's time it will be answered. GOD BLESS TO ALL.
posted by

jayr

on Sep 12, 2010 01:11:43

I love this movie. It passed on a powerful and wonderful message that God touches our lives in ways beyond our comprehension and He is there listening and watching us even at times we feel otherwise. Faith in God is never in vain and all those who seek God in truth and in Spirit will be rewarded in due time.
posted by

V.I.N

on Aug 31, 2010 04:35:29

it seems like critics don't understand much if they really gave only 2stars. This movie is great. Actors were good too,some of them better than Hollywood actors like the boy who played Tylor... I hope this movie will touch and help to find Jesus to everyone who don't know Him as God and Savior.
posted by

Mubi

on Aug 27, 2010 02:39:40

loved it, very sad but had an excelent message. made us cry and laugh and want to be a better christian!
posted by

m

on Aug 13, 2010 07:59:36

the best best:D
posted by

j.e.

on Jul 23, 2010 11:49:04

A wonderful movie with a great message.
posted by

B.K.W.

on Jul 07, 2010 09:42:40

One of the best movies I have ever seen. At the deepth saddness momement of my life this movie brought breathe into my life and gave me the will to strong and move foward. Thank you Maggie
posted by

Love

on May 27, 2010 08:36:45

awesome made me cry T_T
posted by

R.K.H

on May 20, 2010 08:50:48