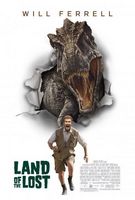 Overview
---
Genre :
Adventure, Comedy, Sci-Fi
Release Date :
June 05, 2009
MPAA Rating :
PG-13
Director :
Brad Silberling
Starring :
Will Ferrell
,
Anna Friel
,
Danny McBride
, Raymond Ochoa, Jorma Taccone, Mousa Kraish, Kristina Krofft, Amyrh Harris, Pollyanna McIntosh

REVIEWS RATE: Critics Readers [Rate It]
Reader's Reviews
---

ok, so the ice cream vendor falls on the raft and the truck is playing a song... is that the same melody as the song "Married Life" from the Disney/Pixar movie Up?? I think it is.
posted by

West

on Oct 11, 2010 05:07:18
i love the songs they toatly fit.lol
posted by

1000000000000000.ooo

on Jun 06, 2010 08:15:57

Frigging hilarious. Loved the part where Will makes comment on the TRex having a brain the size of a walnut, then later a walnut the size of a small boulder hits their "base camp". lol. Hilarious. *cue evil glare from said hidden TRex in the jungle* XD Loved it. Makes me laugh. I really enjoyed this movie...unlike Step Brothers which blew. Damn movie. Step Brothers was such a piece of crap. lmfao. :P
posted by

StepBrothersSuckedDo

on Apr 19, 2010 01:05:02

This movie is awesome!!! I love it. It is soooo funny!! It is like George Lopez!!!!!
posted by

enieledam100

on Feb 03, 2010 02:42:24

wow. this actually didn't suck! i thought that lots of the SUPER fictional monster looking stuff was dumb but i laughed quite a bit.
posted by

rdog

on Oct 20, 2009 04:08:13

rEy8KA
posted by

Ombsykdp

on Jul 14, 2009 09:38:32

It was very funny and will plays the part very good!!!
posted by

Nybaseballman13

on Jul 06, 2009 07:30:34
LMAO ! this movie was so funny , but really discusting in some parts, well what do you expect all will farells movies have sex in them , but in our movie theater it was p.g and still i watched it haha .
posted by

Cow\'s Go Moo !

on Jun 27, 2009 10:34:31

I found this movie hilarious and the soundtrack was awesome too.
posted by

Pizza

on Jun 21, 2009 04:32:53

This NOT a kids movie, plus it's just plane bad. It relay's on an endless stream of sexual innuendo and off color jokes that are just barely within the definition of PG13
posted by

rink

on Jun 13, 2009 11:58:44

this movie blows. mabe five chuckles in the audible range. the old tv show is actually more entertaining than this pile of garbage.
posted by

maxmcd

on Jun 10, 2009 12:22:27
T3 was a great movie! T4 wasn't bad either :)
posted by

Mike Kripke

on Jun 10, 2009 01:05:09
Does anybody know whether or not Doctor Steel's 'Land of the Lost' really will be used on the soundtrack?
posted by

Elkian

on May 16, 2009 08:53:45

I Can't Wait For This Movie To Come Out....AWESOME!!!
posted by

ast

on Jan 26, 2009 10:58:32
I just wish this movie was taking the great premise of the series more seriously. If you're interested in Land of the Lost, you might want to visit my fan site, Tyrannosaurus lex, with coverage of both versions of the TV series and the latest news on the upcoming movie.
posted by

Enik

on Jan 26, 2009 09:54:13