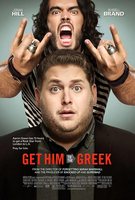 REVIEWS RATE: Critics Readers [Rate It]
Reader's Reviews
---

Russell Brand is Brilliant!
posted by

Buff

on Nov 05, 2011 07:31:13

Best movie this year. I can't wait for the DVD to come out.
posted by

Joanne

on Jul 21, 2010 02:40:40

I was still sore the next day i laughed so much
posted by

Trev

on Jun 27, 2010 04:20:04

This is one of the best movies I have ever watched. It is a must see!
posted by

Jake E

on Jun 17, 2010 05:05:42

so funny that this movie hurt.
posted by

Dylan

on Jun 09, 2010 06:28:52

Best/funniest movie I've ever seen
posted by

Paige

on Jun 08, 2010 08:36:27

it so funny
posted by

barbershop !

on Jun 07, 2010 10:59:39

I just got back from the movie it was fuckin hilarious!!! and i just right when i got home looked up and downloaded the soundtrack ITS A MUST SEE, NON STOP LAUGHTER!
posted by

Nosrak

on Jun 04, 2010 10:13:04
Well, I have to say we should watch out for the cameos of Pink, Cristina Aguilera, Katy Perry, Tom Felton, Dee Snider in this upcoming comedy film "Get Him to the Greek." This movie stars the hilarious tandem of Russell Brand and Jonah Hill. Watch out for it on June 4.
posted by

Pepper

on Jun 01, 2010 02:43:38
I saw an advanced screening of Get Him to the Greek, and I was laughing so hard I nearly fell off my seat many times. Russell Brand and Jonah Hill are the next comedy kings! They simply rock together! And yeah, surprise, surprise, Diddy can hold his own in a comedy.
posted by

Dionne

on May 27, 2010 07:37:33
looks real gay
posted by

nero

on May 18, 2010 08:08:35

wEmv4T
posted by

Nqejzmze

on Jul 14, 2009 08:09:27

it has russell brand in so will be amazing!
posted by

?

on May 19, 2009 12:36:52