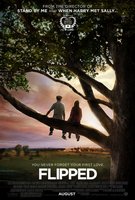 Overview
---
Genre :
Comedy, Drama, Romance
Release Date :
August 06, 2010 (Limited)
MPAA Rating :
PG
Director :
Rob Reiner
Starring :
Madeline Carroll, Aidan Quinn, Penelope Ann Miller,
Callan McAuliffe
, John Mahoney,
Anthony Edwards
, Rebecca De Mornay, Kevin Weisman,
Cody Horn
,
Stefanie Scott
, Israel Broussard

REVIEWS RATE: Critics Readers [Rate It]
Reader's Reviews
---

Best , absolute best . . .
posted by

10

on Oct 17, 2013 06:09:48
muy buena
posted by

vidal

on Nov 20, 2012 02:56:11

This movie is pure joy!
posted by

Dani

on Jan 29, 2011 09:13:38

This Movie Like Little Manhantam.. I Like Movie Like This..
posted by

Oliph

on Jan 10, 2011 12:56:17

Very good...must see for young teens.......
posted by

Flipped

on Jan 05, 2011 09:37:27

Last Night I watced on Blueray.. It is awfull. Very Sweet... I liked to live in 50's... Best time of the world..
posted by

rAci

on Dec 19, 2010 03:03:21

i loved it. when they say flipped they mean it. there lives completly turned around, just like jordyn when i read"Ijust ha to kiss her" i screamed Icould hear birds fly out of the trees. and when brice planted the tree in her front yard my heart fluttered. and when they didnt get together at the end the book was at the other side of the room. that book was the best i ever read
posted by

Jade

on Nov 21, 2010 01:10:50

(SPIOLER) when i read that bryce tryed to kiss her, i couldn't believe it. i was gauking at the book, reading the line over and over again. "I just HAD to kiss her."
posted by

jordyn

on Oct 03, 2010 04:07:46

i read the book few weeks ago. im in seventh grade. then, i was looking for pics of a sycamore tree for a project and heard it was being made into a movie. i literally FLIPPED. (ok, so i didnt actually flip, but you know what i mean ;)
posted by

jordyn

on Oct 03, 2010 04:03:58

havent seen movie, but read book. one of THE funniest books i've ever read. and i read A LOT. can't wait to see. when is it on DVD?
posted by

jordyn

on Oct 03, 2010 04:01:00

go see it. youll love it and end up being FLIPPED like me....so worth it. SEE it and BUY it!!
posted by

woop

on Sep 26, 2010 12:30:19

The best movie ever!I just saw it and its my favorite so far!Amazing!
posted by

Sofija

on Sep 06, 2010 12:15:37

music of the 50's and 60's is the greatest!
posted by

grace

on Aug 12, 2010 10:29:51

I saw a sneak preview last night and the movie was SUPER! If you read the book, you'll love it! I read it when I was about twelve and I'm twenty now. It was funny, adorable, and overall did justice to the book. Great cast, great setting, great music, ...just great everything!!!
posted by

AWonderland35

on Aug 07, 2010 09:53:00
ahh im so happy thery're finaly making this a movie!!! i <3 this book. read it over&over&over again!!!
posted by

flippedlover!!!

on Aug 03, 2010 02:46:43
Man I remember reading the book , I loved it plus now Rob Reiner is the guy behind this movie... oh man can't wait...
posted by

dontknowme

on Jul 27, 2010 11:30:11
hey where is Callan. He is the main man. He is so cool. No one has taken any photos of him. We need Callan. We need Callan. We need Callan cool
posted by

chandra

on Jul 27, 2010 04:39:56
the book was sooooo good i couldnt put it down (literally!). This movie will mark a new favorite on any teens movie list
posted by

yummy

on Jul 18, 2010 02:17:20
this movie was filmed at my school
posted by

edubbs2014

on Jun 01, 2010 03:41:45
really really cant wait i luv the book!
posted by

O.olover!o.O

on May 27, 2010 07:57:06
love this book its uber cool really cant wait till the movie comes out
posted by

AZN_GIRL!

on May 13, 2010 08:51:58
the book is so cool its my fave!i finished it in a day!i couldnt stop reading cant wait for september!<3flipped
posted by

t-ara

on May 13, 2010 08:49:14
this book was awsome!!!!!!!:D!whoever hates this book sucki finished it in 1 day cuz it was so goooooooooooooooddddd!!!!!!
posted by

warior_princess101

on Apr 21, 2010 11:08:16
i imm loving this book im almost finish
posted by

/*girlie*/

on Nov 25, 2009 06:38:41

LUV it!!!!!
posted by

cecile

on Oct 20, 2009 02:37:09

no affence to anyone who hasnt finished it yet...
posted by

dude wheres my car?

on Oct 10, 2009 09:54:54

I thought it was F'd up the way She loved him and He hated her then He loved her and She hated him!!!! What the HELL man?!?!
posted by

Sweet! What does min

on Oct 10, 2009 09:53:02
dude you all suck my sister and i already finished it!
posted by

dude wheres my car?

on Oct 10, 2009 09:50:57

this bok was unbeliveable. i love it. im on the last chapter!!!
posted by

AVA Ellis

on Sep 06, 2009 12:56:01