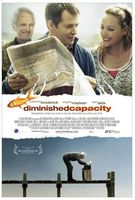 REVIEWS RATE: Critics Readers [Rate It]
Reader's Reviews
---

a charming, sad, and funny breath of fresh air with great performances. mishandled by it's distributor, they dumped it into the bustling summer glut without ANY publicity or adverstising. it went away quickly- don't let that stop you from seeing it. you'll be glad you did.
posted by

filmgoer1

on Oct 09, 2008 04:16:25

With a movie like this, some critics didn't like it. But what I felt, I was moved as well as laughing. It was a great movie starring Mathew Broderick, Virginia Madsen and Alan Alda. This movie came out in the wrong time where all the blockbusters were happening but when I saw it I was stunned. It's about two guys having what one calls it Dim cap as it's diminished capacity. As when Cooper leaves Chicago to go to Missouri to visit his Uncle Rollie his uncle as a baseball card which is worth a few thousand dollars as Cooper, his high school girlfriend, his uncle and his high school girlfriend's son fo off to Chicago to try to sell this card as they run into some trouble on the way. A great movie worth seeing.
posted by

Jake Alda Coffey

on Jul 19, 2008 00:00:00