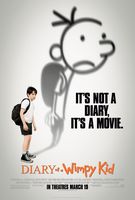 Overview
---
Genre :
Comedy, Family
Release Date :
March 19, 2010
MPAA Rating :
PG
Director :
Thor Freudenthal
Starring :
Zachary Gordon
,
Steve Zahn
, Rachel Harris,
Chloe Moretz
, Rob LaBelle, Alex Ferris, Robert Capron, Laine MacNeil, Karan Brar,
Devon Bostick

REVIEWS RATE: Critics Readers [Rate It]
Reader's Reviews
---

Diary of a wimpy kid is my mivie
posted by

Zach gordan

on May 18, 2013 02:11:41
hey zach wats up
posted by

buddy

on Apr 19, 2011 08:15:24

hi how are you?......... :P
posted by

buddy

on Apr 14, 2011 10:24:37
when does this come out on dvd in australia?
posted by

GIRL :)

on Dec 15, 2010 05:05:18

Great movie all around!
posted by

Ziapacna

on Nov 04, 2010 10:58:42

He is cute zachary I want his phone #
posted by

Cutecelebrity

on Nov 02, 2010 08:15:59

lol
posted by

cesar

on Oct 24, 2010 01:09:58

I love the part where Greg said to Coach Malone "She's a girl! Where do I grab her?", worrying about Patty, then Patty knocks him down. Another part I liked was Fregley saying to Greg and Rowley "Hi, guys! Wanna see my secret freckle?", then he says "Check it out, it's got a hair in it!".
posted by

Austin Alexander

on Sep 25, 2010 10:20:24

i'll be rich and famous one day but for now i'm stuck in middle school with a bunch of morons.:)
posted by

bball

on Sep 07, 2010 07:23:17

Hi umm can you tell me all the lines for your diary of a wimpy kid movie
posted by

wow

on Sep 01, 2010 07:30:34

Great Movie!
posted by

NERD.

on Aug 26, 2010 03:49:01

I LOVE this movie!!! Canít wait to see it again... this is a must seen great movies that you can watch with the entire family!!!
posted by

Karlingas

on Aug 05, 2010 06:25:28

wan't to see my secret freckle. funny stuff. hey joseph it comes on dvd agust 3
posted by

bball

on Aug 02, 2010 12:31:44
when is it on dvd
posted by

joseph

on Jun 25, 2010 03:57:32
this movie is awsome
posted by

Alex

on Jun 14, 2010 09:37:00

i love the movie
posted by

gc

on Jun 12, 2010 07:11:37

The movie was hilarious! I'd say by far the best movie that I have seen this year! Zachary Gordon was a great Greg Heffley, and all the other characters were portrayed correctly, too! Loved the movie, and I can't wait to buy the DVD when it comes out!
posted by

SydneyG

on Jun 01, 2010 08:22:54

it is a great movie i just wish i have the dvd free lol love ya greg !!!!!!!!!!!!11
posted by

casandra

on May 14, 2010 10:31:47

i loved the movie!!! I read the books 50 times a month!! all of them. i can't wait 'till the movie comes out!
posted by

Michael

on Apr 23, 2010 01:40:13

I loved this movie. I hadn't read one of the books before I saw the ad in april but then I decided to rent one from the library and to tell the truth the book was LOL and I went to the movie and it was the best Movie I've seen in 2010.I Think I like because it doesn't make being popular in middle school sound easy because it isn't.
posted by

Kingsly

on Apr 21, 2010 02:04:38

I really liked this movie. Zachary Gordon is a good actor, but I'm not going to be one of those druling girls who falls all over him. Great and funny movie, though
posted by

Emmabeth

on Apr 12, 2010 02:51:58

My bro is in this movie!!! It was made in Vancouver BC. The movie is a little fast though. But does any one know the song used when many kids line up in a row with the safety patrol stuff on? Some of the lyrics are " bang da bang diggi diggi"
posted by

Canadian2010

on Apr 07, 2010 02:05:31

i love that movie its so funny ive read all the books and i loved them all.Sometimes i read the books to five year olds and they loved.I say the move with my 3kid peggie,greg and olivia they loved it 2 so did i so go into the cimema and go see it!
posted by

dairy of a wimpie ki

on Apr 04, 2010 10:10:55

does anyone know the song at the end of the movie??
posted by

loser13

on Mar 29, 2010 02:22:48

Wow! I might be a little unfair in this vote because I have read every book, but Without a doubt, this is one of the best movies I have seen in several years. The best part was, it was so true! I saw it last night, but I REALLY want to see it again!
posted by

Pokeyankeefan

on Mar 21, 2010 08:44:44

This movie was by far one of the best I have seen in a long time. I am tired of all the Sci-Fi and Fantasy! This was a positive and great change! The movie kept me laughing and laughing... and in all honesty, Greg - you have earned five stars!
posted by

FunnyKitKat

on Mar 20, 2010 06:06:07

MY UNCLE IS GOING TO TAKE ME TO THE MOVIE I THINK IT'S GOING TO BE HILARIOS
posted by

I LOVE IT

on Mar 20, 2010 05:43:51
Saw the trailer for "Diary of a Wimpy Kid Movie" and it was great! Whole family is going to see this funny and entertaining movies. Wimpy Kid...you Rock!
posted by

Bonnie S.

on Mar 05, 2010 05:28:56
I funny on the story in Diary of a wimpy kid and in the movie. I laugh will the movie on you. Actress from Zachary Gordon.
posted by

Carmen

on Mar 04, 2010 09:46:59
Love the trailer. This is going to be a very funny movie. I can't wait to see it. Read all the books. This should be one of the best movies of the year.
posted by

Jason M.

on Feb 23, 2010 11:16:33
Loved the books. The trailer is hilarious. Should be a great movie. I love the kid who plays Greg Heffley (Zachary Gordon) He is so great as Greg. I expect this to be a big hit!
posted by

flashinthepan

on Feb 22, 2010 09:49:16
I just love these books !!!!!!!!!!!!!!!!!!! I hope the movie will be good to.
posted by

Basewister

on Jan 16, 2010 04:47:31

i loved the books.i bet the movie is gonna be better.my favorite character is manny.
posted by

fhvfbvfh

on Oct 22, 2009 08:55:55

Facepalm
posted by

FUDGE

on Oct 20, 2009 10:39:13

i hate this movie. ya know why? i auditioned for lead role. i could've been in a movie with steve zahn!
posted by

rdog

on Oct 15, 2009 11:01:31

the movie is going to be good
posted by

ben hiscott

on Oct 07, 2009 06:32:39

Our family is all looking forward to seeing this movie based upon the New York Times #1 best selling kids/famil novels. I seems like a needed change to the computer graphics dominated or depressing movies that keep coming out of Hollywood. The stories are great, all the kids in our neighborhood and schools read these novels. The movie should be a fun transformation of the main character "Greg Heffley" played by actor Zachary Gordon into a 3 dimentional living person that can be identified with. No easy task for an actor, but everyone is expecting it to be a big hit, after all 32,000,000 readers can't be wrong.
posted by

flashinthepan

on Oct 05, 2009 03:38:38

This kid is one of the top rising stars today. Saw him in a number of movies and TV shows. This kid can act and do it very well. Can't wait for the movie "The Diary of a Wimpy Kid" to come out. 20th Century Fox made a great choice in giving this rising young actor the starring role. It is going to one of the BIGGEST movies of next year!
posted by

sholmes

on Sep 06, 2009 03:52:00

I've read all the released books and have all of them in hardcover even do it yourself book I am so exited about the movie I can't wait to see it I already know it's going to be five stars
posted by

Max Mccormick

on Aug 25, 2009 06:42:18

Zachary Gordon is terrific! Great choice 20th Century Fox. I can't wait for the movie to come out, should be great.
posted by

flashinthepan

on Jul 24, 2009 04:28:06

I can't wait until the movie. All the books was the best.
posted by

Heebie de jeebie eno

on Jul 18, 2009 02:42:59

B1tEU6
posted by

Neyvdsnq

on Jul 16, 2009 03:37:39

what the fuck
posted by

nxskjxdqo

on Jul 01, 2009 09:48:04