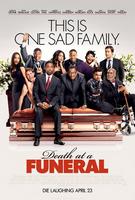 Overview
---
Genre :
Comedy
Release Date :
April 16, 2010
MPAA Rating :
R
Director :
Neil LaBute
Starring :
Chris Rock
,
Martin Lawrence
,
Tracy Morgan
,
James Marsden
,
Zoe Saldana
,
Columbus Short
,
Kevin Hart
,
Danny Glover
,
Keith David
,
Luke Wilson
,
Regina Hall
, Loretta Devine, Ron Glass,
Peter Dinklage

REVIEWS RATE: Critics Readers [Rate It]
Reader's Reviews
---

It's so very funny, so awesome !!!!!!! I wanna know whats the name of that song that was played in the movie when martin lawrence went into the girl's red hot car
posted by

zz

on Jan 30, 2011 03:33:39

Yo diz is gona be da best movie of 2010.
posted by

Spunkyonyx

on Aug 14, 2010 02:40:39

Hollywood...
posted by

ThisIsBad

on Aug 06, 2010 04:43:40

I Love the Movie and my name is not "Shaniqua" as "It Sucks" below seems to be intimidated by. I Love all of the actors! When black actors don't get regular parts in movies...they come together and make one! I love it! Black people's funeral are also hilarious most of the time when it pertains to those who are in attendance and their personalities, and that's what this movie displays. Those of us who love movies and know what can happen at a funeral with black families (that keep you talking/laughing for years)...we get it, and we love it! I Love Black People!
posted by

I Love Movies!!

on Jun 20, 2010 02:52:47

Enjoyed the laughs. True belly laughs. Did not see "original" so I have nothing to compare this one to; so maybe that is why it was so funny to me and my husband.
posted by

goodlaugh4whitewoman

on Apr 27, 2010 03:25:06
OMG that is funny It Sucks. yeah this movie comes out April 16, so the dvd comes out what April 17? LOL
posted by

ItsaCombatxCarl

on Apr 15, 2010 09:41:35
Am I the only one who has a problem with this movie? This was previously made in 2007. Why do we need a "black" version? Is it supposed to be funner now? And the make James Marsden, a white dude, the guy on PSP. Now I dont normally make things racial, but this is screaming to be called out. Maybe we need a black version of Princess Bride. Or how about Something About Shaniqua?
posted by

It Sucks!

on Apr 09, 2010 07:38:04
sounds like it will be another shity remake of a good film
posted by

me

on Mar 06, 2010 10:34:53
FUCK hollywood. Seriously. Get an original idea guys, the original movie was fucking amazing. Cockheads. They did it with State of Play and ruined it.
posted by

Dave

on Mar 04, 2010 10:13:06
why do a remake of a movie that does not need a remake? is that the original is in another language? what happens to these guys?
posted by

Fuking remakes!!!

on Mar 04, 2010 09:15:56

THIS MOVIE IS GOING TO SUCK!!! NOTHING WILL BE AS GOOD AS THE ORGINAL DEATH AT A FUNERAL!!! BOO U GUYS BLOW
posted by

yousuck

on Dec 11, 2009 12:30:08

I think that this is gona be a great movie!
posted by

Atis

on Dec 05, 2009 08:13:36

ZXCupC
posted by

Lexmkhdr

on Jul 14, 2009 10:39:48