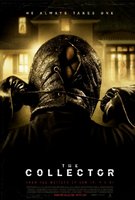 Overview
---
Genre :
Thriller, Crime
Release Date :
July 31, 2009
MPAA Rating :
R
Director :
Marcus Dunstan
Starring :
Josh Stewart,
Madeline Zima
, Karley Scott Collins, Andrea Roth, Robert Wisdom, Michael Reilly Burke, Daniella Alonso, Juan Fernandez, Jabari Thomas, Colvin Roberson

REVIEWS RATE: Critics Readers [Rate It]
Reader's Reviews
---
it's...very interesting film! masha (14 years) from Russia
posted by

5

on Sep 24, 2010 03:23:13

it is wiked a bit like saw
posted by

goughy

on Jul 15, 2010 02:55:56
Can anyone tell me the name of the song PLAYED WHEN ARKIN SCAPE AND SHOW ALL DEAD INSIDE THE HOUSE?
posted by

NICOLE

on Jul 14, 2010 12:29:41

WELL THIS MOVIE IS FUCKING VERY SCARY. AND WHAT HAPPENS TOO THE GUY IN THE ENDING THAT GETS THEOWED IN THE BOX
posted by

THE COLLECTOR BABY

on Jul 11, 2010 01:50:37

the movie was suspenseful but not scary. the soundtrack was good.
posted by

anna

on Jun 21, 2010 05:48:21

Superb cat and mouse suspense, and cringe worthy gore. I anticipate this to be the start of a great horror franchise.
posted by

PH fat

on Mar 28, 2010 09:20:35

My Jaws hurt after watching this movie from clinching my teeth the entire movie. Credit Song is Nico Vega- Beast
posted by

hybridgsxr

on Feb 15, 2010 12:01:15
can anyone tell me the name of the song from the trailer? please email me @ catastrophicblackout@live.ca
posted by

allthegoodnamesweret

on Feb 15, 2010 01:55:39

Nico Vega - Beast of America Credits Song
posted by

Dizzy74

on Feb 10, 2010 02:59:00

best thing since SAW, honestly it kept me wanting to throw up, kept my body pumped of adrenaline, and made me jump a bunch. PERFECT scary movie. :D duh. lolz.
posted by

sam

on Sep 07, 2009 02:12:24

We want the soundtrack. where can we get it????
posted by

tuj13

on Aug 22, 2009 10:44:26
Hi does anyone know the song that play in the trailer was? thanks
posted by

Jonfox

on Aug 18, 2009 04:05:14

pretty good movie and im not even into horror. but please tell me some1 knows where i can get the music that played during the movie!
posted by

mariijuana_247

on Aug 16, 2009 11:12:48

Dose someone have a bootleg so i can watch the credits to see what the names of the music, i know some of it was by jerome dillon but i want that soundtrack!
posted by

Balls

on Aug 13, 2009 05:31:55

what song is playing during the credits?
posted by

jayzizzle

on Aug 12, 2009 09:57:50

what song is playing during the credits?
posted by

jayzizzle

on Aug 11, 2009 10:15:31
I can not find the soundtrack anywhere... i almost want to go see it again just to get the music
posted by

Collectable

on Aug 09, 2009 12:44:05

this movie was awsome!! it was one of the best horror movies in a while!! i really want the soundtrack though...AND I NEED TO KNOW WHAT THAT SONG IS CALLED IN THE END CAST!!!I LOVED IT
posted by

josephRAMM

on Aug 06, 2009 04:18:58

Weak story line
posted by

linus

on Aug 03, 2009 04:11:30

I loved the movie, but what i realy want is the soundtrack, it was realy cool i enjoyed it.
posted by

balls

on Aug 03, 2009 01:23:44

Very Interisting an Kept me watching all the way threw. The endkeeps me Guessing for a Sequeal. loved it.
posted by

Spyder

on Aug 02, 2009 10:43:29

Scary and surprising!!!
posted by

----

on Aug 02, 2009 10:29:10

hod no real direction or plot
posted by

33

on Aug 02, 2009 05:18:47

Jerome Dillon did a masterful job on the soundscapes. (Kurt Loser at MTV) is obviously tone deaf.
posted by

Jennifer Hart

on Aug 02, 2009 03:22:54

It was amazing. If you are aquemish do not see it. This was one of the best horror movies i have seen in a while. By the ending you will be shocked and disgusted which in my opinion, is fantastic.
posted by

the collector

on Aug 01, 2009 12:23:19