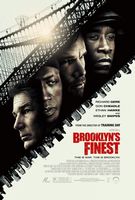 Overview
---
Genre :
Crime, Drama
Release Date :
March 05, 2010 (Limited)
MPAA Rating :
R
Director :
Antoine Fuqua
Starring :
Richard Gere
,
Ethan Hawke
,
Don Cheadle
,
Wesley Snipes
,
Ellen Barkin
,
Jesse Williams
, Stella Maeve, Sarah Thompson, Robert John Burke, Shannon Kane,
Vincent D'Onofrio
, Tawny Cypress

REVIEWS RATE: Critics Readers [Rate It]
Reader's Reviews
---

good movie but was wodering if any one knew what the song called that plays at the end??
posted by

rissa

on Jul 30, 2010 10:03:45

Good films don't need aliens etc. but Broklyn Finest is a real story excellent movie such a long time I haven't watch a 5 stars awesome and realistic
posted by

tonyur

on Jul 11, 2010 10:16:18

Freaking awesome man..
posted by

Anonymous

on Jun 18, 2010 12:46:25

what is the name of the songs in the moovie ? :) thanks :)
posted by

aLeX

on Apr 24, 2010 03:29:14

Great movie - one of the best movies about America's cops. Anyone thinking of emigrating to the US (and to NY in particular) MUST see it.
posted by

J.J.

on Mar 26, 2010 09:51:30

great movie, great story. you can watch it for free at watchfullmovienow d0t c0m
posted by

Jake

on Mar 15, 2010 06:41:01

When The DVD Will Release?
posted by

HJH

on Mar 12, 2010 02:01:27

Best movie I have seen in a looooong time I give it 5 stars
posted by

lolita 1

on Mar 09, 2010 12:27:23

Great movie. Gives you a good look inside the the hard stressfull life of the NYPD. Don't get fooled though, not all police in NYPD act this way!
posted by

NYPD

on Mar 09, 2010 10:28:03

Epic. Instant Classic!
posted by

Brooklyns Finest mov

on Mar 07, 2010 11:26:02

best shit i seen ever
posted by

me

on Mar 06, 2010 10:32:14

to thumbs down sorry this...movie is full of shit...i spent 2hrs trying to figure it out...
posted by

big mike cali

on Mar 06, 2010 08:50:25

It's my favorite movie.
posted by

oliviamaria

on Mar 06, 2010 07:16:09

Overall it was a good movie. At times some situations were predictable but the action kept the movie moving. It reminded me of the movie Crash. Several different lives and character situations. Just goes to prove everyone has problems its how we deal with them in the end that defines the momemnt.
posted by

Godiva36

on Mar 06, 2010 01:54:12

j9HOHR
posted by

Mymbwydf

on Jul 13, 2009 08:18:42