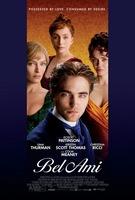 Overview
---
Genre :
Drama
Release Date :
June 08, 2012 (Limited)
MPAA Rating :
R
Director :
Declan Donnellan, Nick Ormerod
Starring :
Robert Pattinson
,
Uma Thurman
,
Kristin Scott Thomas
,
Christina Ricci
, Colm Meaney, Natalia Tena, Philip Glenister,
Holliday Grainger
, James Lance, Philip Glenister

REVIEWS RATE: Critics Readers [Rate It]
Reader's Reviews
---
very awful movie. bad
posted by

woochy

on Feb 20, 2012 06:54:07
Was one of the lucky ones to see the preview in Belgium. Its fantastic all around, acting, music, photography and Rob! Will see it again and again.
posted by

Nicole

on Feb 03, 2012 03:47:00
this was a very bad movie, boring !
posted by

Lyn

on Jan 03, 2012 05:57:53
The book Bel Ami is a fantastic work of literature. I read it in the late 1970's as a teen and read it again last year. I am looking forward to seeing the big screen production and wish someone in the industry would get it out of the "can" and into theatres. I sure hope they remained true to the book too. :)
posted by

str52

on May 31, 2011 12:53:15
Seen it very good performance from everyone. Cow Patz has stepped up to the plate and hit a home run.
posted by

bumraider42

on Oct 14, 2010 07:35:25
you guys are jsut some bunch of pathethics!!
posted by

spectator

on May 05, 2010 02:51:58
did i mention im completely in love with you? seriously no joke
posted by

mary macallister

on Mar 15, 2010 04:35:32
way to go rob, he's moving up there!
posted by

mary macallister

on Mar 15, 2010 04:35:02
Can't wait! Go Rob!
posted by

krissie RN

on Mar 01, 2010 12:24:46
I have read all the books and watched all the movies Robert has been in and he is just a great entertainer. Go Rob!
posted by

Diana

on Mar 01, 2010 03:39:19
I came across a song that I think would be fantastic on the Bel Ami soundtrack: "Masquerade (When_We_Dance)" by Merry Ellen Kirk
posted by

Melissa

on Feb 02, 2010 02:21:10

robert u r simply gr8 love u
posted by

wasi

on Jan 04, 2010 02:05:15
I think Uma Thurman is the best choice.. she will bring life to this character and challenge Rob Kristen Thomas and Uma are very talented and seasoned actresses.. Rob will benefit from this job.
posted by

greeneyedlaide

on Dec 09, 2009 03:03:02
They should look at the actress who played the lead in Bright Star. She was terrific. Go for someone British and low key for the female lead. Not a Nicole Kidman please.
posted by

Linda

on Nov 05, 2009 06:05:54

well, if it is about robert pattinson this movie will be great
posted by

ainari

on Jul 30, 2009 06:21:20