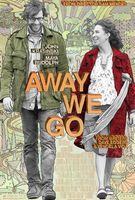 Overview
---
Genre :
Comedy, Drama
Release Date :
June 05, 2009 (Limited)
MPAA Rating :
R
Director :
Sam Mendes
Starring :
John Krasinski
,
Maya Rudolph
,
Maggie Gyllenhaal
,
Allison Janney
,
Cheryl Hines
,
Jeff Daniels
, Carmen Ejogo,
Melanie Lynskey
,
Chris Messina
, Kevin J. O'Connor,
Paul Schneider
,
Jim Gaffigan

REVIEWS RATE: Critics Readers [Rate It]
Reader's Reviews
---

Holy shit. Amazing soundtrack. Great movie. But the soundtrack is my favorite part.
posted by

Carsonmaier

on May 02, 2010 08:46:30

very enjoyable movie. absolutely every performance in this is perfect, theres a good soundtrack, its funny, its sad, its realistic, and its charming. i have nothing to complain about it, unless it maybe couldve been longer. thats how good it is. i recommend it to anyone who isn't just interested in blood and guts. any couple should see it. im an eleven-year-old boy and i loved it, especially because of john krasinski, alison janney, and the brilliant maggie gyllenhaal. great movie.
posted by

rdog

on Nov 22, 2009 10:37:15

This is a very cute & funny movie.. I loved it! Definitely worth watching
posted by

Screen name

on Nov 02, 2009 11:24:46

i loved this movie, i want a love like they have in this movie.
posted by

Smooo0312

on Oct 18, 2009 10:36:17

I totally agree with solocke! I cried and couldn't breath, this is how hard I laughed. Wow, amazing movie. I loved the scene with the promises they've made to each other.
posted by

trulla

on Oct 16, 2009 04:20:18

I've not laughed in a theater like that since I was a young child. We went back two weeks later and we laughed aloud even though we'd already seen the film. We're normally tough critics but this was 5 star hysterical and heartwarming. A great couples film
posted by

solocke

on Oct 13, 2009 03:20:12

It's weird but the first thing I noticed when I watch a movie is if the song chosen is addecuated (sp?) at each moment. And this movie did.
posted by

Someone

on Oct 10, 2009 12:45:45

YEAH! Finally a really good movie! The story makes sense out of the strange things our kids do and helped me to be a much more tolerant and gentle parent. It is a touching, humorous, portrait of two good people.
posted by

mumsy

on Aug 01, 2009 06:24:02

kRJcxN
posted by

Nrqrmtbp

on Jul 15, 2009 03:09:18

I loved this movie I have seen it twice! I am going to see it again today! The soundtrack is amazing, I loved it.
posted by

pbandjforever

on Jul 02, 2009 02:49:31
we were in this film, well, errrr, at least we think we were. We were told we were the best looking couple on the beach that night and they seated us at The Fish Called Avalon for drinks.
posted by

t & sabrina

on Jun 16, 2008 00:00:00
i was there while they were filming it!
posted by

dsad

on Jun 14, 2008 00:00:00