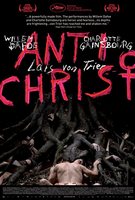 REVIEWS RATE: Critics Readers [Rate It]
Reader's Reviews
---

I watched, sometimes reluctantly, this movie last night. To me it was a twisted trip racing headlong into madness. Did anyone notice the numerous subliminal still shots during the blur of the woods while they were traveling on the train? I captured at least 6 images. They all were goulish images of our disturbed anti-heroin well before she hit her full on breakdown soon to come. As far as the childs backwards shoes; it explains the autopsy report describing "insignificant" feet deformaties. When defoe finds several pictures of Nick with his shoes on backwards, it becomes evident that "mom" had been losing her tenous grip on reality for quite sometime. When asked why she did that, she flippantly dismissed it as a one off "brain fart" or something. Furthermore, did the deformaty contribute to the toddlers loss of balance? Defoes look of horror as he view several snapshots suggest it very well may have been connected. It also became clear mom was neglegting her motherhood far longer than even he realized. One other comment regarding the "feel" of the movie, both audio and visual, reminded me very much of David Lynch's style. Had I not known better you could have fooled me. In conclusion, I think the take away here is that everything that she saw evil and horrible in "nature" was really what she saw in herself.
posted by

antmanv1

on Jan 09, 2011 01:23:07

Great!
posted by

Fla

on May 15, 2010 02:27:13

Difficult to watch, but rewarding. Don't fully understand the shoes on wrong feet.
posted by

bluewilma

on Mar 06, 2010 05:11:58

its the best film....exellent...i like it very much....
posted by

ata

on Dec 07, 2009 02:25:27

OMG. What? Gratuitous and a terrible story line. So disappointing for so many reasons.
posted by

yellowponygirl

on Nov 10, 2009 08:52:26

can anyone explain the reason she was putting her son's shoes on the wrong feet
posted by

shy

on Nov 03, 2009 11:29:19

the movie was awesome! two thumbs up!!!
posted by

fargo

on Aug 30, 2009 01:32:01

JfBgD0
posted by

Juauabgj

on Jul 14, 2009 09:17:11

It's top notch!
posted by

mrblue

on Jun 03, 2009 11:15:30