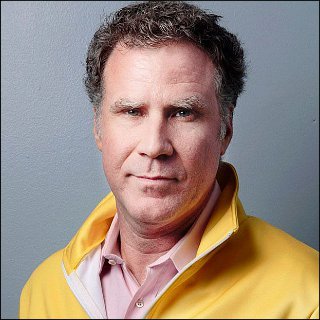 Profile
---
Famous as :
Comedian
Birth Name :
John William Ferrell
Birth Date :
July 16, 1967
Birth Place :
Irvine, California, USA
Claim to fame :
As Frank Ricard in "
Old School
" (2003)

Ranked 1st in Forbes' annual list of Hollywood's Most Overpaid Stars in 2009.
Has become the first "SNL" member to earn a Golden Globe nomination when he received the honor in 2006.
Landed on the 17th rank of Entertainment Weekly's The 50 Smartest People in Hollywood list.
Is a member of an adult soccer league playing at Santa Monica's Crossroads School for Arts and Sciences.
Bears a surgical scar on his upper right abdomen from a surgery for pyloric stenosis, a condition that causes frequent vomiting, he had as a baby.
Once admitted that one of his favorite films is "Patton" (1970).
Joined Leslie Bibb, his co-star in "Talladega Nights: The Ballad of Ricky Bobby", posing for the cover of Stuff magazine for its August 2006 issue.
He and wife Viveca Paulin were on May 19, 2007 bestowed "The 2007 Viking Prize" by the Swedish School of Los Angeles.
Included in GQ magazine's 11th annual Men of the Year list (November 2006).
Made a cameo appearance in his fellow Frat Pack members' movies, "Starsky & Hutch" (2004) and "Wedding Crashers" (2005).
Ranked the 74th in Entertainment Weekly's Must List issued in 2004.
Gained the 51st rank in Premiere Magazine's Power 100 List in 2004 and escalated to the 38th by 2005.
Contributed his voice for the radio commercial of Miller Beer in 2001.
Was the highest paid cast member of "Saturday Night Live" (1975) in 2001 with a salary of more than $350,000.
Was the one who yelled "Ernie, you're the man!" in the background during the final bowling match scene between Bill Murray and Woody Harrelson's characters in "Kingpin" (1996).
Displayed his famous impersonation of George W. Bush on an Internet advertisement for America Coming Together.
Had worked as a valet parking man at Newport Beach's Meridien Hotel, a bank teller, and also as Santa Claus at a mall in Pasadena for 5 weeks with Chris Kattan as his elf sidekick before his career took off.
Formed Simpatico, a mock performance artist troupe which often appeared in local comedy clubs.
Helped boosting the sale of senior class t-shirts during his high school study through witty announcements over the public access system which led him to be selected as the regular announcer by the school's principal.
Preferred taking dancing class to entering acting school in his younger years.
Was the 3rd Funniest Person in America according to Entertainment Weekly.
Has been a member of the Delta Tau Delta Fraternity.
Participated in the New York City and Boston Marathons together with his wife.
Was a good scholar and athlete in high school.