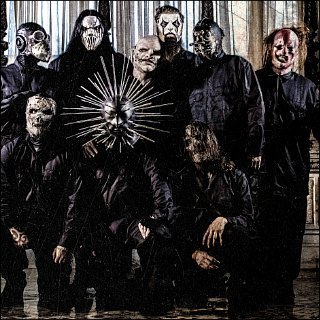 Profile
---
Famous as :
Nu metal band
Birth Date :
1995
Birth Place :
Des Moines, Iowa, USA
Claim to fame :
Album "
Iowa
" (2001)

Biography
---
by AceShowbiz.com
---
mask is a metal one but with holes and has a face expression of anger. Last, number 8 is Corey Taylor who does the vocals. He was born on December 8, 1973, and has fathered at least one baby. His baby's name is Griffin Parker Taylor who is nicknamed "Itty Bitty Mouth".

Slipknot had experienced some early personel shifts before they finally settled around the nine-piece lineup in order from number zero to number eight. Early on their first formed, the music scene in Des Moines wasn't much to speak of, and the band's big-time ambition was usually met with disbelief and ridicule, which provided the initial spark for its mostly anonymous stage visuals. And so they worked on themself to create their own distinct music, and on Halloween 1996, Slipknot released an album called "Mate. Feed. Kill. Repeat." which began to build a buzz around the group once it found its way to several labels. What a fortunate that the album was well-received, and several major record labels became interested in the group. As a result, the album was picked up for distribution by the Nebraska-based -ismist label, and also caught the attention of Roadrunner Records, which signed Slipknot in 1997.

Under the Roadrunner Records, Slipknot worked with producer Ross Robinson, with whom they recorded their official, self-titled debut album "Slipknot" which was released in June 1999. With the release of this album, the band gradually built an audience through near-constant touring, working their way up to the summer Ozzfest package tour, which really expanded their audience even more. Their live shows were also much-discussed hit with metal fans, and the band performed with such energy that Crahan gashed his head open on his own drum kit twice that summer, requiring stitches both times. Moreover, this debut album had spawned two tracks "Wait and Bleed" and "Spit It Out" that got the band some airplay, but most of the buzz, in fact, came from touring and word of mouth. Above all, in the spring of 2000, "Slipknot" was certified platinum; becoming the first such album in Roadrunner's history.

Shortly, in 2001, the follow-up of the debut album was released but it debuted only at number three on the Billboard Magazine album charts. The group once again toured heavily to promote the record and to raise its position as well. And after a long spell on the road, Slipknot took ...