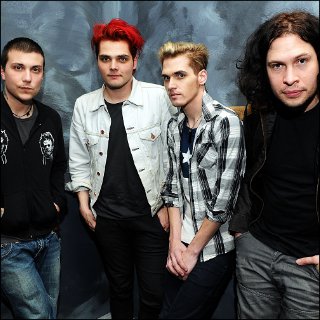 Profile
---
Famous as :
Rock band
Birth Date :
2001
Birth Place :
New Jersey, USA
Claim to fame :
Single "
Helena
" from album "Three Cheers for Sweet Revenge" [2004]

Biography
---
by AceShowbiz.com
---
Setting out to release their two DVD/one CD set entitled "Life on the Murder Scene" in November 2005 and a fourth album by 2006, My Chemical Romance kept continuing their dominance in North America as they successfully made a sold-out concert at San Antonio, Texas on September 24, 2005. What is more, they amazingly secured two nominations at the 2005 MTVu "Woodie" Awards, including the major category, Woodie of the Year, shortly after their great attainment to collect five MTV Video Music Awards nominations. Selected to participate in the soundtrack of two video games namely "Tony Hawk's American Wasteland" and "True Crime: New York City," this punk/emotional hardcore band surely has scored higher than what other New Jersey-based music groups have accomplished.

Formed in 2001, the concept of the band was developed by Gerard Arthur Way (born on April 9, 1977 in Newark, New Jersey) during his gloomy time in New York City after graduated from the School of Visual Arts. Dispirited due to his failure to be a comic book artist and deeply affected by the 9/11 incident, he was motivated to head for a new direction in his life. " … after Sept. 11, I felt like I wanted to make a bigger impact," he explained. "I wanted to connect with people up close and personal." Feeling music was the perfect vehicle to fulfill his desire, Gerard contacted his high school friend, Matt Pelissier, to help him create a composition which later was called "Skylines and Turnstiles." As these two talented guys decided to make a demo tape, Gerard satisfyingly convinced another fellow, Raymond "Ray" Toto (born on July 15, 1977 in Newark, New Jersey), to be the lead guitarist.

Taking his younger brother, Michael James Way (born on September 10, 1980 in Newark, New Jersey), to fill the position of bass guitarist, Gerard took the role as the vocalist, while Matt became the drummer. Inspired by Irvine Welsh's novel entitled "Ecstasy: Three Tales of Chemical Romance," four of them concluded to name the band "My Chemical Romance." With their unusual music style that is vibrant, dark and youthful, the group began to earn considerable attention in the local punk/emo scene, including the vocalist of Thursday, Geoff Rickly who quickly expressed his willingness to produce their debut album under his independent label, Eyeball Records. The personnel afterwards entered a studio in upstate New York to record their material ...