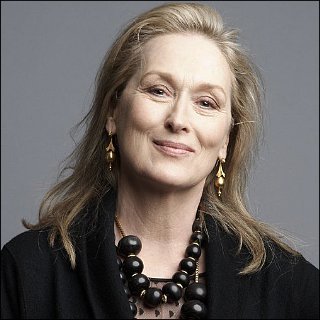 Profile
---
Famous as :
Actress

Birth Name :
Mary Louise Streep

Birth Date :
June 22, 1949

Birth Place :
Summit, New Jersey, USA

Claim to fame :
As Linda in "The Deer Hunter" (1978)


Ranked 6th in Entertainment Weekly's list of 50 Smartest People in Hollywood (November 2007).
Ranked 10th on Mr. Blackwell's 47th annual "Worst Dressed" list released on January 9, 2007.
Makes the list of the Top Entertainers of 2006 compiled by U.S. magazine Entertainment Weekly in December 2006.
Was bestowed an honorary Doctor of Arts degree from Middlebury College on her nephew's graduation in 2004.
Received an honor from Manhattan Borough President C. Virginia Fields in 2004 as she proclaimed May 27 to be the Meryl Streep Day.
Initially was billed to portray Iris Hineman in "Minority Report" (2002), but later had to give up the role and was replaced by Lois Smith.
Received an honor of an Officer of the French Ordre des Arts et des Lettres in 2000.
Practiced playing violin 6 hours a day for 8 weeks to prepare for her role in "Music of the Heart" (1999).
Was chosen Best Modern Actress based on Entertainment Weekly on-line poll in 1999.
Took over the lead role in "Music of the Heart" (1999) from Madonna.
Gained the 24th rank in Empire Magazine's list of Top 100 Movie Stars of All Time in 1997.
Was turned down for the role of Patsy Cline in "Sweet Dreams" (1985) and Miss Kenton in "The Remains of the Day" (1993).
Her enactment as Sophie Zawistowska in "Sophie's Choice" (1982) ranked the 3rd on Premiere Magazine's 100 Greatest Performances of All Time while another as Karen Silkwood in "Silkwood" (1983) ranked the 71st.
Originally was plotted to play the role of Blanche Dubois in a planned '80s film version of "A Streetcar Named Desire" by the play's author, Tennessee Williams, but when she proved unavailable, the project later was turned into a TV feature.
Accidentally left her just-claimed Oscar on the back of a toilet when she won it at the 1979 event.
Was included in the list of Promising New Actors of 1977 together with other 11 actors in John Willis' Screen World, Vol. 29.
Was mentioned by first name only in Michael Crichton's "State of Fear."
Reached the 37th in Entertainment Weekly's list of the Greatest Movie Star of All Time and the 46th in that of Premiere Magazine's.
Joined a traveling theater company in Vermont called Green Mountain Guild during her younger years.
Once underwent a job as a waitress at The Hotel Somerset in Somerville, New Jersey before her acting career took off.
Was a classmate of Christine Estabrook and Sigourney Weaver at Yale Drama School.
Was the homecoming queen also a cheerleader during her high school years.
Has a character in "Sesame Street" named after her.
Is one of the people who have a fear of helicopters.
Her character in "Silkwood" (1983), Karen Silkwood, was placed in the 47th rank on the American Film Institute Heroes list of the 100 years of The Greatest Screen Heroes and Villians.
Has been called "my generation's genius" by Diane Keaton.
Had carried out a series of serious singing lessons.
Is Maeve Kinkead's sister-in-law.
Has a deviated septum she refuses to have it fixed so that the directors have to deal with it by avoiding straight-on close-ups.
Is known to be a perfectionist when preparing for roles and a skilled thespian in speaking with almost any accent.