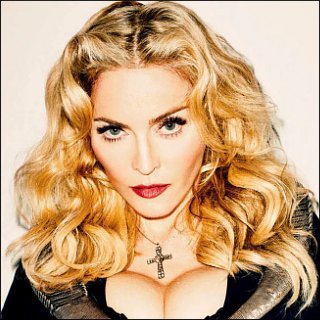 Profile
---
Famous as :
Pop singer, actress

Birth Name :
Madonna Louise Veronica Ciccone

Birth Date :
August 16, 1958

Birth Place :
Bay City, Michigan, USA

Claim to fame :
Single "Holiday" from album "Madonna" (1983)


She, alongside Shakira and the late Marilyn Monroe, were all the new models for Sunsilk's new campaign dubbed "Life Can't Wait" (January 2008).
Detailed to Time Magazine on its August 7, 2006 issue her plans to raise at least $3 million to aid orphans in Malawi, Africa with the money going toward a care center, as well as improved economic, food and health programs for the area.
Provoked ire from Rome's Catholic, Muslim and Jewish leaders with her plan to sing while hanging from cross crucifixion at her stage show there on August 6, 2006.
Forbade her children from celebrating Christian holiday since 2005.
Joined forces with luxury goods maker Gucci to host a fundraising event to be held on February 6, 2007 with all proceeds to benefit UNICEF and the Raising Malawi charity, which she co-founded in 2006 (November 2007).
Had her "Confessions" tour aired in a two-hour concert special on NBC November 22, 2006 at 8 p.m. ET with the controversial cross scene being cut somehow.
Once had a hernia surgery at Cedars-Sinai Medical Center on February 10, 2006.
Has her documentary, "I'm Going to Tell You a Secret," which chronicles her exploits during the 2004 "The Re-Invention Tour", premiered on MTV on October 21, 2005.
Chosen No. 4 in a poll on the World's Unsexiest Women conducted by men's magazine Maxim in October 2007.
Posed provocatively for the US magazine "W" in a 58-page photo spread, available on newsstand in New York on April 5th and nationwide on May 19, 2006.
She and hubby Guy Ritchie come in at No. 6 in an annual list of Britain's Richest Musical Figures released April 27, 2007 by the Sunday Times with a combined fortune estimated at 275 million pound sterling.
Her rendition of Don McLean's "American Pie" was voted RetroCrush's #5 Worst Covered Songs in June 2007.
Penned a song titled "Hey You" for charity which was performed in Al Gore's Live Earth London concert on July 7, 2007.
Ranked 3rd on Forbes magazine's "100 Most Powerful Celebrities" annual list in June 2007, thanks to her "Confessions" tour which is claimed as the highest-grossing tour by any female artists in history.
Named the Most Stylish Star at the Elle Style Awards, held in Camden's Roundhouse in London on February 13, 2007.
Ranked 4th in Forbes magazine's list of the "20 Richest Women In Entertainment" with an estimated worth of $325 million (January 2007).
Ranked 4th on the list of the Biggest-Grossing North American Tours of 2006 conducted by Pollstar, with a 2006 total gross of $85.9 million.
Ranked 10th in an Internet poll in December 2006 on Women Most Men Fantasize About While Making Love to Their Partners.
Inked a deal with Swedish fashion giant Hennes & Mauritz to design a range of clothes and accessories, dubbed "M by Madonna," that will be launched in March 2007.
Ranked 9th on a list of the Worst Celebrity Legs, conducted in November 2006 by Lambrini which was searching for the sexiest legs for a new fashion campaign with Pretty Polly.
Teams up with Celebrity Cellars for her own signature line of wines that includes a California Cabernet Sauvignon, Pinot Grigio, and UnWine which is a nonalcoholic version.
Put the tiara she wore at her wedding to Guy Ritchie up for auction on eBay, donated the impressive Edwardian jewelry to the Kazanjian Foundation Jewels For Charity Auction (Sept 2006).
Her single "Like a Prayer" was voted the 3rd Most Memorable Music Video Ever by viewers of MTV show The Box (Dec 2005).
Lost a plagiarism case brought by a little-known Belgian songwriter Salvatore Acquaviva which resulted in the prohibition of her 1998 hit single "Frozen" from sale or broadcast in the country (November 2005).
Has her hit single "Hung Up", from her 2005 album "Confessions on a Dance Floor", featured in ads for the Motorola/iTunes phone.
Rushed to the hospital right on her 47th birthday after fell off a horse while riding on her London-area estate, which broke her hand, collarbone and cracked three ribs.
Listed as one of the UK Top 10 Most Popular Bands Of All Time (July 2005).
Her album "Confessions on a Dance Floor" topped the 2005's Global Charts at No. 6.
Has her controversial "Confessions" tour set the record for being the All-Time Highest-Grossing Tour by A Female Artist, grossing $US197.3 million (Sept 2006).
Earns the predicate the Highest Earnings for A Female Singer in 2004 in the 2007 Guinness Book of World Records.
Won't be friends with Britney Spears after the pop superstar posted a comment on the Internet saying, "I no longer study Kabbalah, my baby is my religion" (June 2006).
Has been confirmed as the new face of Swedish fashion firm H&M's fall 2006 collection.