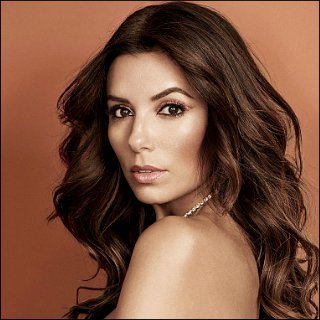 Profile
---
Famous as :
Actress

Birth Name :
Eva Jacqueline Longoria

Birth Date :
March 15, 1975

Birth Place :
Corpus Christi, Texas, USA

Claim to fame :
As psychotic Isabella Brana Williams on "The Young and the Restless" (2001-2003)


She and Tony Parker won the 9th spot on Forbes' list of Hollywood's 20 Top-Earning Couples, earning $22.5 million between June 1, 2007 and June 1, 2008.
Winning the 10th position in In Touch magazine countdown of top 10 "Best Bottoms In Hollywood" in August 2007.
Voted the No. 2 Hottest Star on US TV in a poll conducted by TV Guide magazine in March 2007.
Named as one of "Top Newsmakers of 2006" in Access Hollywood's 11th season.
Bumped on the head by something while shooting "Desperate Housewives" on location and was taken to a hospital where she was treated and released (August 2005).
Slipping on one of the stairs coming out of her trailer and bruised her ribs on the set of "Desperate Housewives" (Oct, 2006).
Having her cover image on Maxim's January 2005 edition created into a 75-by-110-foot vinyl mesh replica in the desert outside Las Vegas in honor of the magazine's 100th issue.
Included in People magazine's annual "50 Most Beautiful People" list (April 2005).
Becoming the spokesperson for Hanes for the year of 2005.
Having her trailer provided with full bath, kitchen, bedroom and lavish furniture.
Stripping down to some skimpy beach and sportswear for giant clothing retailer Bebe's new summer range (April 2008).
Pulled counter and drive-thru duty at a Wendy's in her hometown of Corpus Christi, Texas on May 27, 2008 to help kick off the fast-food chain's Father's Day Frosty Weekend, celebrated from June 14 to 15.
Included in Maxim magazine's annual "Hot 100" list; ranked 1st in 2005 and 2006, 9th in 2007, and 4th in 2008.
Included in TV Guide's list of America's Sexiest TV Stars unveiled in May 2008.
Voted 5th in a poll of TV's Sexiest Women Ever compiled by Internet service provider AOL in December 2007, thanks to her role as Gabrielle Solis in TV series "Desperate Housewives".
Chosen to have the No. 1 Hollywood's Sexiest Legs according to a poll conducted by Life & Style Magazine in March 2007.
Ranked 10th in In Touch Magazine's poll of the Best Legs in Hollywood (January 2007).
Once involved in a minor car crash on June 21, 2006, luckily she was okay.
She and boyfriend Tony Parker were ranked 6th on a poll conducted by In Touch Magazine on Hollywood's Most Romantic Couple (Sept 2005).
Included in the Top 10 list of In Touch Magazine's Hairstyle Most Women Want (June 2005).
Voted 3rd on men's magazine FHM's annual list of "100 Sexiest Women in the World" in April 2007.
Personally and professionally changed her name to Eva Longoria Parker by October 2007.
Invested $250,000 to open an eatery, called "Beso", to be opened July 2007.
Named one of the "50 Mas Bellos" (50 Most Beautiful People) by People en Espanol in 2005.
Was in the list of 25 Most Beautiful People of People en Espanol in 2003.
Met J.C. Chasez of N*Sync at a local dog show during which they tried to bid on the same dog.
Included in People magazine's annual "100 Most Beautiful People" list in April 2007.
Ranked 4th in a poll on Sexiest Women conducted by men's magazine Stuff in April 2007.
Named as one of the most influential Hispanic entertainers in America in People en Espanol's list of "100 Most Influential Hispanics" in January 2007.
Ranked 7th in an Internet poll in December 2006 on Women Most Men Fantasize About While Making Love to Their Partners.
Named the World's 4th Worst-Dressed Celeb by People for the Ethical Treatment of Animals (PETA) in November 2006.
Chosen as the World's 8th Most Beautiful Woman in the June 2006 poll conducted by the UK magazine Eve.
Ranked the 10th on the 2006 "Most Desirable Women" poll held by online magazine AskMen.com.
Included in Mr. Blackwell's 46th annual "Worst Dressed" list (January 2006).
Placed at No. 22 on STARmeter's list of Most Searched Names of 2005.
Named the 2nd Top Newsmaker for 2005 by US TV show Access Hollywood.
Has been voted the Sexiest TV Beauty of All Time based on the survey of British supermarket Sainsbury's thanks to her sexy performance in "Desperate Housewives" as Gabrielle Solis (August 2005).
Her favorite basketball team is The San Antonio Spurs, while her favorite player is Tony Parker.
In 2005 she signed a 1 million pounds deal with L'Oreal to be its new image.
Admits wearing G-string every day and actually doesn't even have a full-bottom pair of underwear.
She's been practicing shooting her entire life.
Was called Prieta Fea because she is the only one in the family to have dark hair, dark eyes, and dark skin.
Had thought that she was an adopted child because of her totally different features.
Ranked #3 on E!'s "50 Steamiest Southern Stars."
Appeared as a dancer with the famous Pussycat Dolls.
Had been labeled by Variety as one of the Ten New Faces To Watch.
Has an interest in the study of Latino literature and history.
The right way to pronounce her name is Lon-GORE-ia, not Lon-go-RIA.
Likes salsa dancing, crocheting and home decorating.
Enjoys rock climbing, motocross, kick boxing and yoga.