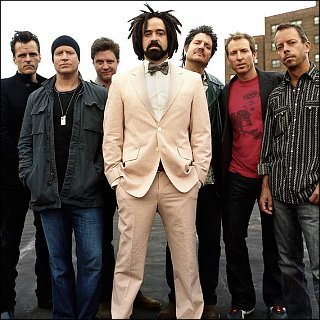 Profile
---
Famous as :
Alternative rock band
Birth Date :
Aug 1991
Birth Place :
San Francisco, California, USA
Claim to fame :
Debut album "
August and Everything After
" (1993)
Biography
---
It all began with a determination of one man named Adam Duritz in keeping the existence of music in his life. Moving from his birth town Baltimore to San Francisco, Duritz engaged himself in numerous music projects including The Himalayans that received local acclaims for their studio-like live performances in early '90s. Through the band, Duritz became acquainted with producer David Bryson who agreed to form a brand new band with him. Naming themselves the
Counting Crows
, Duritz and Bryson started the project as an acoustic duo. Like Himalayans, Crows also nabbed local popularity in Berkeley and San Francisco through their concerts. By 1993 the band had grown to be a five-piece. Bassist Matt Malley, keyboardist Charlie Gillingham and drummer Steve Bowman were invited to join the band that eventually earned a deal from Geffen Records. Crows took their first international flight when they scored a performing slot at the Rock and Roll Hall of Fame induction ceremony for
Van Morrison
in 1993. All the while, the band have recorded demos that eventually shaped their debut studio album "
August and Everything After
" which was released in September that year. Surprisingly, "Mr. Jones", the third track from the album brought a huge twist of fate for the band.
"Mr. Jones" was their first commercial single from the band that entered the American Top 10 chart. It propelled the album to go on sale up above 7 million copies and made them a headliner in tours instead of mere supporting acts. For the work, they received two nominations at the 1995 Grammy Awards for Best Rock Vocal Performance by a Duo or Group and Best New Artist. They added one more member in early 1994, guitarist Dan Vickrey who got introduced to the band through Gillingham. Unfortunately by the end of their tour Bowman was worn out and admitted a nervous breakdown due to their sudden fame. The drummer announced his departure in late 1994, just in time the remaining members leaving the calendar empty to start the work of second album. They started recording in 1995 with Ben Mize on drum and finished the set in 1996, releasing it under the title "
Recovering the Satellites
". The album was deemed "heavier" than its predecessor but after all managed to claim the first spot of Billboard Hot 200 chart and the fourth slot on U.K. albums chart.

Back to Top

Back to Top