The 'X-Men: Apocalypse' actress texted Pratt's ex-wife Faris, 'Since we know each other, I wanted to reach out to you personally to tell you the story about me and Chris dating has 0 percent truth.'
Gossip tabloids and websites just can't seem to leave newly single
Olivia Munn
alone. Following her split from
Aaron Rodgers
, the actress was recently rumored to be dating
Chris Pratt
, who separated from his wife of 8 years,
Anna Faris
, last August.
ET
reported that Munn and Pratt had a "romantic" dinner date at popular Hollywood restaurant Craig's in West Hollywood, California on Friday, January 19. Eyewitnesses told the site that the two stars were alone, and acting "totally romantic."
One source claimed, "He had his arm around her at one point," adding that it didn't look like the two were trying to hide their PDA. The rumored pair reportedly took precautions not to be photographed, with the eyewitness suggesting that the two "probably came in from the kitchen."
The rumors, however, have been quickly debunked by Munn herself. The Psylocke of "
X-Men: Apocalypse
" felt the need to address the rumors with Faris first, so she texted the "
Mom
" star, "Since we know each other, I wanted to reach out to you personally to tell you the story about me and Chris dating has 0% truth. I'm sure you already know it's not true, or maybe didn't care either way, but I just wanted to reach out personally to tell you it's not true."
Shutting down the rumors, Munn then took to Instagram to share a screenshot of her conversation with Pratt's ex. According to the picture, Faris replied, "Oh my god-this town is so f**king crazy-you are so sweet to text. I love you-having said that if you were my new sister in law I would be thrilled...let's please catch up soon."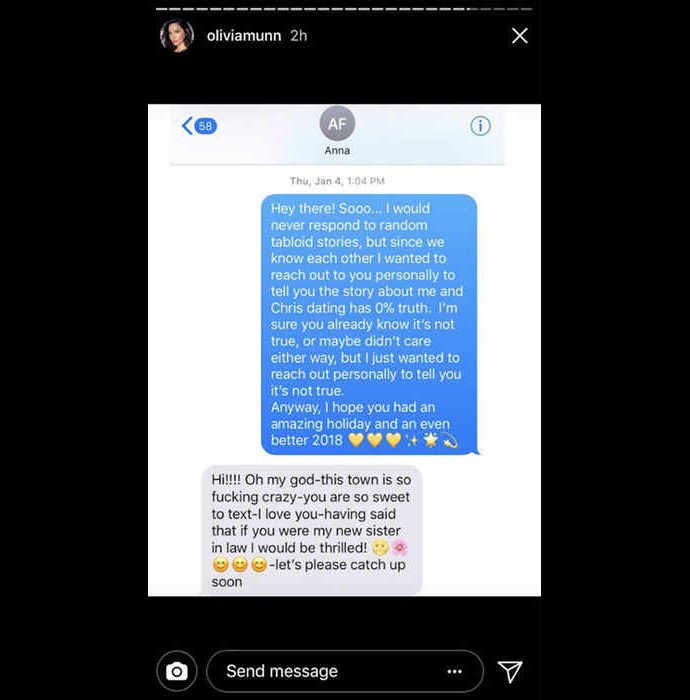 Munn also wrote on Instagram Stories, "Not every woman is scorned and upset after a breakup." She continued, "Not every woman is 'furious' at another woman for dating her ex...So even if I was dating [Chris], some tabloids got me and [Anna] all wrong...women respect and love each other a lot more than some people like to think."
Prior to this, Munn was said getting flirty with
Jamie Foxx
at the
Floyd Mayweather, Jr.
vs.
Conor McGregor
fight in Las Vegas in August. It didn't make sense though, as it's widely believed that Foxx has been dating
Katie Holmes
.
Meanwhile, Pratt has never been publicly spotted with a new girlfriend since announcing his split from Faris last year. The friendly exes have a son together, 5-year-old Jack.