The 'That '70s Show' couple took their two children to a family-filled lunch at Vintage Garden Dome Bistro in Budapest to celebrate Mila's birthday.
Mila Kunis
just turned 34 on Monday, August 14. The "
Black Swan
" actress celebrated her birthday with a lunch outing at Vintage Garden Dome Bistro in Budapest as she was joined by hubby
Ashton Kutcher
and their two kids, 2-year-old daughter Wyatt Kutcher and 9-month-old son Dimitri Kutcher.
The restaurant's owners shared a snap of the happy couple on the restaurant's Instagram account. The Ukrainian-born actress smiled from ear-to-ear as she was clad in a black-and-white embroidered top, while the "
Jobs
" actor looked casual in a printed shirt and a black baseball cap.
The pair, who tied the knot in 2015, have been spending all their summer in Hungary as they rented a home there. They seemingly will stay in the country while Mila continues filming for action-comedy movie "
The Spy Who Dumped Me
", in which she stars opposite
Justin Theroux
and
Kate McKinnon
. The filming for the flick is reportedly set to wrap up in September, giving the couple plenty of time to enjoy their time in Hungary.
Just last week, co-star Justin hilariously crashed the married couple's date night at the 2017 Sziget Festival. Mila and Ashton were seen dangling their legs off scaffolding at the music venue as they were enjoying
Wiz Khalifa
's performance.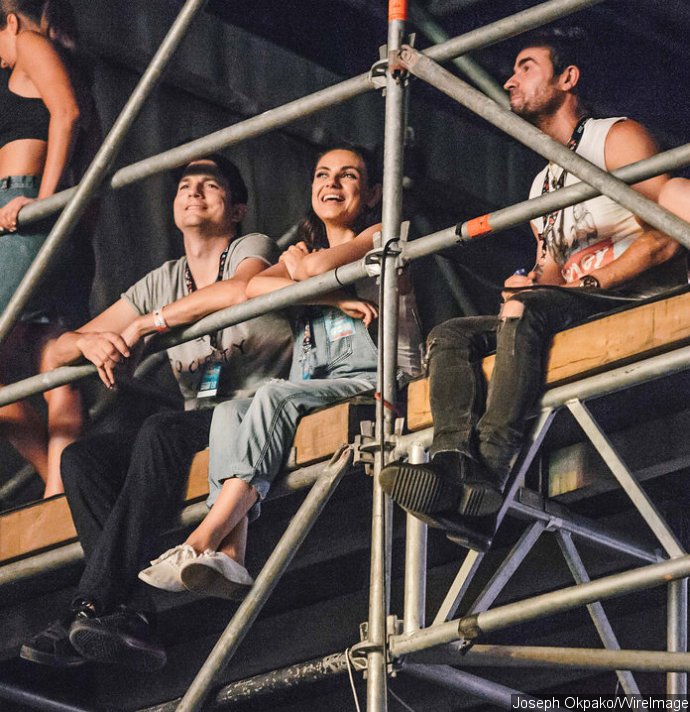 📷: Justin no show do Wiz Khalifa's com o Ashton Kutche e a Mila Kunis (10/08/17) em Budapeste pic.twitter.com/uSR8gDMJNb

— Justin Theroux BR (@TherouxBr) August 11, 2017
Mila slipped into denim overalls and white sneakers with Ashton sitting by her side in gray tee and black pants. Meanwhile, their muscly third wheel sat a few steps away from the couple in graphic tank top and black skinny jeans.