Alexander in particular stole the attention on the Sunday event with her clean look and stunning Genny dress.
Gina Rodriguez
,
Bryce Dallas Howard
and
Giuliana Rancic
kicked off the 73rd Annual Golden Globe Awards with their red carpet look. The glitzy event is taking place at the Beverly Hilton Hotel in Los Angeles on Sunday, January 10 and the ceremony will be aired live on NBC at 8 P.M. ET.
Rodriguez glammed up the event with Zac Posen's satin blue ball gown which apparently had pockets in it. Howard also picked dark blue for her attire but her gown is embellished with scale-like fabric. Rancic showed off her toned abs in a bright orange gown with slits on the tummy and floor-length sleeves.
Alan Cumming
was among the guys to arrive early at the event, picking a rather casual look by pairing blue tuxedo and black sneakers. The casual look was also adopted by rapper
Wiz Khalifa
who ditched socks and wore printed blue tie. Singer
Sam Smith
went with the classic bow tie and tuxedo pair. Actors
David Hasselhoff
,
Ken Jeong
and
Gael Garcia Bernal
wore similar outfits.
Jaimie Alexander
stole the attention with her patterned emerald green Genny dress and plunging V neckline. She posed for the photographers with fiance
Peter Facinelli
who went all black.
Eva Green
picked a nude Eli Saab gown while
America Ferrera
stunned in tumeric Jenny Packham dress.
Emmy Rossum
challenged the red carpet with her strapless bright red silky gown.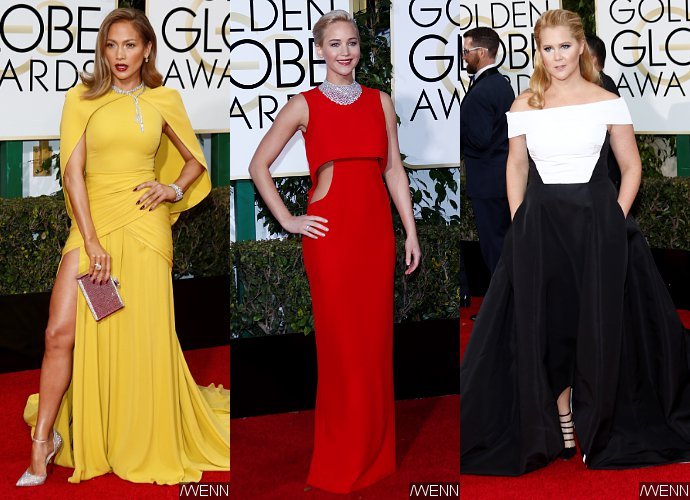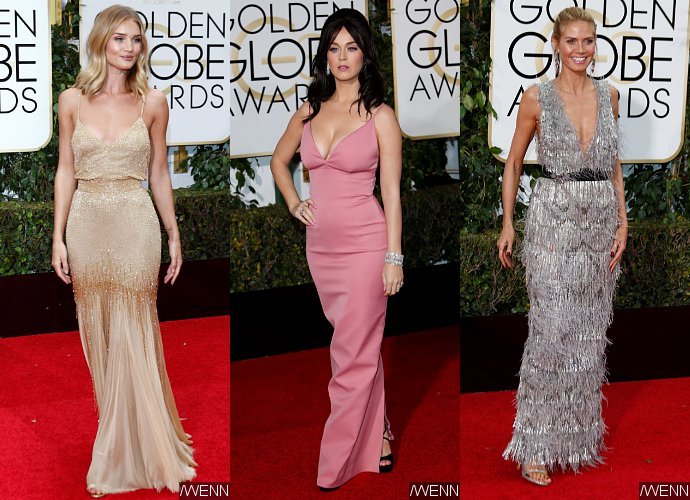 .@peterfacinelli, @JaimieAlexander, @BryceDHoward, and @carlychaikin on the #GoldenGlobes red carpet! pic.twitter.com/daWki3JcIx

— Golden Globe Awards (@goldenglobes) January 10, 2016
The celebrities had quite bold and interesting choices this year.
Regina King
went with sparkly gold Krikor Jabotian dress topped with white cape.
Brie Larson
was a walking chandelier with her gold Calvin Klein dress while
Amanda Peet
arrived in fringy Alexander McQueen dress.
The Hoff (@DavidHasselhoff), @brielarson, @JLo, @SamHeughan, @caitrionambalfe hitting up the #GoldenGlobes tonight! pic.twitter.com/pnnNkfShR1

— Golden Globe Awards (@goldenglobes) January 10, 2016
Will Smith, @emiliaclarke, @emmyrossum, and @RobLowe all spotted on the #GoldenGlobes red carpet! pic.twitter.com/VqnimgNBnH

— Golden Globe Awards (@goldenglobes) January 11, 2016
Jon Hamm making sure he looks his red carpet dapperest for the #GoldenGlobes! pic.twitter.com/V2wqIvM4Lp

— Golden Globe Awards (@goldenglobes) January 11, 2016
Funny people @amyschumer, @AndySamberg, @oliviawilde, and Jason Sudeikis. #GoldenGlobes #RedCarpet pic.twitter.com/MZNGKF44qn

— Golden Globe Awards (@goldenglobes) January 11, 2016