Chuck Lorre says Sheen was offered to appear in the last scene, but the actor thought it wasn't funny and proposed a different idea instead.
"
Two and a Half Men
" series finale was set as a tribute to
Charlie Sheen
, but the actor didn't appear in person in the one-hour episode. In the show's final vanity card, series creator Chuck Lorre explained Sheen's absence from the series finale.
"I know a lot of you might be disappointed that you didn't get to see Charlie Sheen in tonight's finale. For the record, he was offered a role," so he wrote. "Our idea was to have him walk up to the front door in the last scene, ring the doorbell, then turn, look directly into the camera and go off on a maniacal rant about the dangers of drug abuse. He would then explain that these dangers only apply to average people. That he was far from average. He was a ninja warrior from Mars. He was invincible."
But apparently Sheen didn't think it was funny. Lorre added, "Instead, he wanted us to write a heart-warming scene that would set up his return to primetime TV in a new sitcom called 'The Harpers' starring him and Jon Cryer. We thought that was funny too."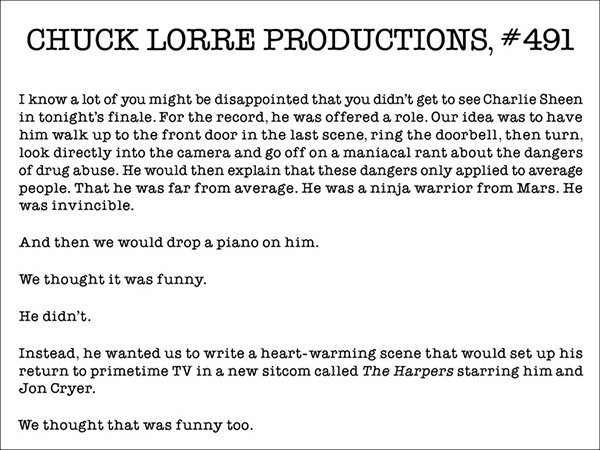 The last episode
titled "Of Course He's Dead" ended up having a man wearing a golf shirt and shorts, which was Charlie Harper's (Sheen) trademark outfit, show up at the house but he was only seen from behind. He was then crushed by a piano, and it was revealed that Lorre was the one who did it.
Speaking to EW.com, Lorre says of the ending in which he quoted Sheen's catchphrase, "winning," "It felt funny. It felt like the funniest and must succinct way to end the damn thing. And dropping the second piano also felt like an appropriate response-perhaps nobody wins, but hopefully we laughed along the way."